Privacy is not just an important individual right. Privacy supports and underpins a myriad of other democratic values including free speech, autonomy, security and equality. Invasive mass surveillance by our government has no place in Canada.
For the last 50 years, the BCCLA has been committed to protecting the privacy of Canadians. We have advocated for strong privacy laws in a wide variety of contexts, from health care decision making to cross-border information sharing.  Our lawsuit against CSEC is just one more important step to ensure that privacy matters – now and in the future.
BCCLA Resources on Privacy:
Background and theory:
Our recent advocacy work on privacy: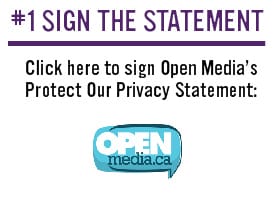 We are proud to have partnered with Openmedia.ca on a national action campaign in support of this case. Click here to sign onto the statement in support of the case.