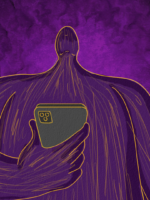 More and more of our lives involve interacting with electronic devices. When you slip your phone into your pocket or laptop into your bag, it is easy to forget the volume of information you're carrying with you. For many, it is an entire library – years of correspondence, business records, personal conversations, photos, web surfing history, and reading habits – all stored on one device.
Personal Electronic Device Searches in Classrooms
As concerns regarding student safety at school continue to grow, so too do the responsibilities of educators to oversee and prevent threats to the wellbeing of the student body. What implications does this have for student privacy?
Students already have a diminished right to privacy while in school. School administrators are legally authorized to search students because of their duty to protect them and to provide an orderly learning environment. Given that students are now walking around with a wealth of personal information in their pockets, in what circumstances might school administrators be authorized to access that information in the name of student safety?
The BCCLA has created a new video to educate youth on their vulnerability to searches and best practices in Canadian classrooms. Produced by Hot Neon with artwork by David Kativu, this project is supported by CIRA's Community Investment Program. While also financially supported by the Law Foundation of Ontario, the BCCLA is solely responsible for all content.
Coming Soon: Download 'Digital Privacy Rights for Youth' a guide to personal electronic device searches in classrooms, student freedom of expression online, and police searches of cellular phones.
---
Electronic Devices Privacy Handbook: A Guide to Your Rights at the Border


The idea of someone digging through all that information and deciding if you should be allowed to come into Canada or not seems implausible, but that is exactly what happens when the Canada Border Services Agency (the "CBSA") searches electronic devices at the border.
The law around searches at the border was designed during a time when people would only bring a small amount of personal information with them, but today we bring vast troves of personal data along in our pockets. This handbook is meant to help you make sense of the current state of play with respect to electronic searches at the Canadian border and at US preclearance zones in Canada, and to provide tools to protect your privacy when travelling with electronic devices.
What this guide does:
Rights at the Canadian border – What can and can't be done by a CBSA officer when they decide to search your electronic devices?
CBSA policies – What exactly do CBSA officers do when they are searching your electronic devices?
Rights at U.S. preclearance areas – What can and can't be done by a preclearance officer when they decide to search your electronic devices?
Best practices – What steps can you take to keep your data private and secure?
I've been searched! – What should you do if your electronic devices have been searched by the CBSA?
Read our helpful guide, published in 2017, to prepare for your next border crossing.
Download guide:
Download guide in multiple languages:
Your Privacy Rights at the Border
What can and can't be done by a CBSA officer when they decide to search your electronic devices?
Best Privacy Practices at the Border
What are some best practices to keep your personal information private and secure when crossing the border?
This project was supported by a grant from the Canadian Internet Registration Authority's (CIRA) Community Investment Program.
About CIRA and the Community Investment Program
CIRA is building a better online Canada through the Community Investment Program by funding charities, not-for-profits and members of the academic community who are making the Internet better for all Canadians. CIRA is best known for our role managing the .CA domain on behalf of all Canadians. While this remains our primary mandate, as a member-based not-for-profit ourselves, we have a much broader goal to strengthen Canada's Internet. The Community Investment Program is one of our most valuable contributions toward this goal and funds projects in digital literacy, online services, research and infrastructure. Every .CA domain name registered or renewed contributes to this program. To date CIRA has contributed $5.45 million in Community Investment Program grants.