You're invited to the BCCLA's 2016 Annual General Meeting and Festschrift Launch!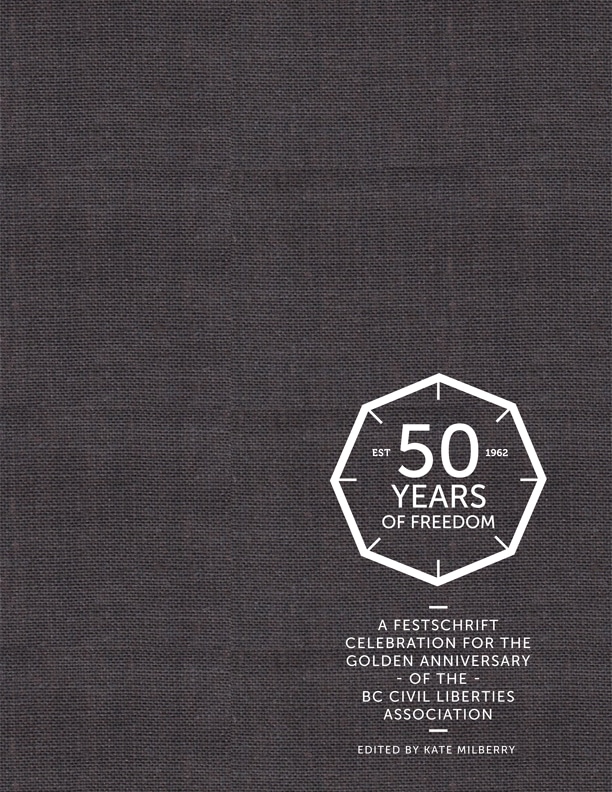 We will kick off our AGM with a reception and short program with Festschrift authors. What is "festschrift", you ask? According to Wikipedia, a "festschrift" is a volume of writings honouring a person, especially an academic—in our case, the BCCLA.
BCCLA members and friends are invited to hear highlights of the BCCLA's work over the past year, as well as our key priorities into the months ahead. We will also attend to usual AGM business and announce our newly elected Board of Directors.
When: Tuesday, May 3, 2016. Registration and reception begins at 6:30 pm. Program begins at 7:00 pm.
Where: 515 W. Hastings St, Vancouver, BC. SFU Harbour Centre, Segal Conference Rooms 1400-1420
Delicious snacks and dessert will be provided in addition to a cash bar. Please bring cash if you plan on purchasing drinks. The nearest ATM is located in the Harbour Centre Foodcourt.
Click here to view the agenda for the 2016 AGM.
Registration Required
To make sure everyone has a seat, and we have the right number of voting cards, please let us know if you're coming!
Please register by using the form below.
All members and members-to-be are encouraged to attend. Only members in good standing for three full months before the AGM will be able to vote in the AGM portion of the evening.
If you would like to renew your membership, you can do this online here. If you have questions about your membership status, please contact us at [email protected] or 604-630-9757.
Newly Elected Members of the Board of Directors
Since the nomination deadline, we received applications from 12 eligible candidates to fill 12 vacancies on the Board of Directors. Per election rule 3.1 (b), since there are insufficient candidates to trigger an election, the Association will announce to the membership the candidates elected by acclamation.
Please extend a warm welcome to our newly elected members of the Board of Directors:
Warren Bourgeois
Derek Brackley
Alistair Browne
Jeannie Kamins
Ed Levy
Melody Mason
Kevin Millsip
John Russell
Paul Tétrault
Michael Friedlaender
Rishi Gill
David N. Fai
Parking and Transit
Nearby parking lots include 500 West Cordova Street and 450 West Cordova Street. Click here to see a parking map for nearest parkades.
Numerous bus routes serve the downtown area and SFU Harbour Centre. The nearest SkyTrain station for SFU Harbour Centre is Waterfront Station, which is a brief walk from Harbour Centre.
Current schedules, route maps and fares for bus, SkyTrain, SeaBus and West Coast Express services are available at TransLink's website.
To RSVP, please register through the form below: