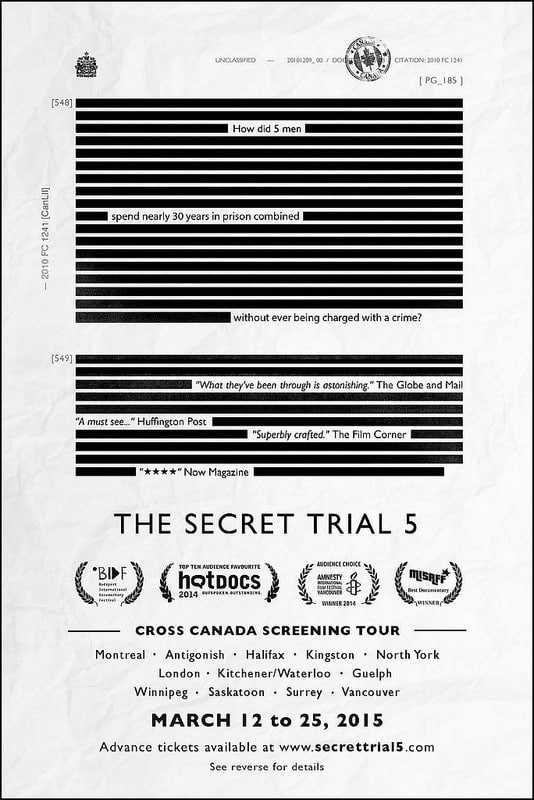 Carmen K. M. Cheung, Senior Counsel at the BC Civil Liberties Association, and the filmmakers of The Secret Trial 5 will engage in a panel discussion following a screening of the celebrated documentary film.
The Secret Trial 5 is embarking on a cross-Canada tour in an effort to keep the topic of security certificate detentions present in the debate around Bill C-51. Security certificate issuance is an immigration tool that enables the Canadian government to deport non-citizens that it deems a threat to national security. Since many of the individuals who are issued security certificates face a serious risk of torture should they be deported to their country of origin, they can be detained indefinitely in Canadian prisons. Many of the allegations and evidence held against security certificate detainees, as well as large portions of their trials, are kept secret, ostensibly in the interests of national security.
There are two screenings of the film: March 24th at Kwantlen Polytechnic University in Surrey, and March 25th at Vancity Theatre in Vancouver. Carmen will engage in a discussion, alongside filmmakers, after both screenings. The discussion from the Vancouver screening will be streamed live online. You are invited to engage in the "hybrid cinema" experience by sharing your thoughts through Twitter during and after the screening with the hashtag: #St5film.
The March 25th screening is at Vancity Theatre in Vancouver, BC, starting at 6:30 pm.  This posting has been updated to suggest arrival shortly after 6pm. Advanced tickets ranging from $10 -$12 can be purchased online here.  Join the Facebook event page here.