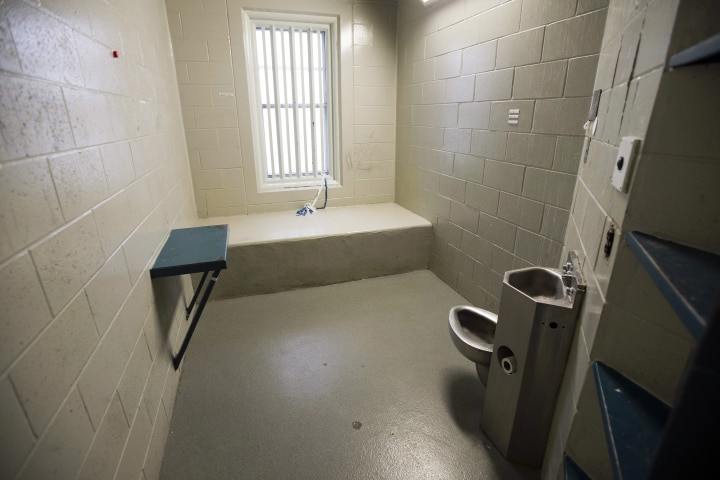 This afternoon, the Correctional Service of Canada (CSC), released its long-awaited response[1] to the Coroner's Inquiry into the Death of Ashley Smith, nearly one year after the inquiry made 104 recommendations[2], including a call for the end of indefinite solitary confinement in federal prisons.
After recent media reporting on the in-custody death of Edward Snowshoe and a series of editorials critical of administrative segregation (as one form of solitary confinement is known as in Canada), we have been anxiously awaiting CSC's response to criticism of a practice widely regarded as torture. CSC's refusal to make any changes to its practice of prolonged, indefinite solitary confinement without any judicial oversight, is both abhorent and utterly predictable.
Details of the in-custody death of Edward Snowshoe are finally coming to light[3], nearly four and a half years after the fact. On August 13, 2010, Mr. Snowshoe hanged himself in his two-by-three meter segregation cell at the maximum-security Edmonton Institution. Reports on the circumstances of Mr. Snowshoe's death paints a heartbreaking picture of untreated mental illness exacerbated by the 162 consecutive days he spent in solitary confinement.
Mr. Snowshoe's story sounds a familiar refrain. The 2007 in-custody death of a teenaged Ashley Smith while in solitary confinement shocked the public conscience. Late last year, a coroner's inquest found Ms. Smith's death to be a homicide due to the conduct of guards and CSC management. In BC, an inquest[4] was ordered earlier this year into the suicide deaths of three men – Kyle Darren Tombaugh, Gerald Joseph Cayer and Warren Robert Allen – all three held in custody at the same segregation unit in BC, and all of whom died over the span of an eight-month period. Countless others have died in solitary confinement across Canada, their suffering and deaths having gone unnoticed.
The statistics are staggering. One in four federally incarcerated prisoners in Canada faces solitary confinement.[5] There are 1,800 inmates in provincial and federal solitary cells on a given day.[6] CSC data shows that the number of inmates experiencing mental health problems is growing at an alarming rate.[7] The suicide rate for prisoners is seven times the rate of the Canadian public, with nearly half of those suicides occurring in solitary confinement.[8]
Solitary confinement creates and perpetuates a vicious cycle that becomes nearly impossible to break, particularly when used to "manage" mentally ill inmates (as is increasingly CSC's practice). A troubled, mentally ill prisoner is more likely to be put into solitary confinement, and in turn, more likely to suffer in isolation thereby adding to the perceived difficulty in his or her custodial "management" which itself results in more solitary confinement. And so it continues. Prolonged, indefinite solitary confinement exacerbates and creates mental illness. Panic attacks, aggression, lack of impulse control, paranoia, hallucinations, hyper-responsiveness to stimuli, major depression, and anxiety disorders are all linked to lengthy stays in solitary confinement.[9]
The United Nations Special Rapporteur has denounced prolonged, indefinite solitary confinement – of the kind taking place every day in Canadian prisons – as torture.[10] We have known of the extreme dangers of solitary confinement at least since the recommendations of Justice Louise Arbour in her 1996 report on the riots at the Kingston Prison for Women. Justice Arbour called for strict limits on solitary confinement – no more than 15 consecutive days, and no more than 60 days of solitary in a year.[11] Those recommendations were echoed more recently by the Coroner's Inquiry into the Death of Ashley Smith.
The Correctional Investigator of Canada, Howard Sapers, has repeatedly called for the end to the widespread practice of placing mentally ill offenders and offenders at risk of suicide or serious self-injury in segregation.[12] To date, the government has turned a blind eye to the problem, as seen in CSC's most recent response to the death of Ashley Smith. CSC's response is woefully out of touch, dealing in semantics (administrative segregation, it claims, not solitary confinement) and focusing on prisoners' access to "hobby materials." It smacks of the CSC bureaucratic speak with which prison reform advocates are all too familiar, and doesn't address the fundamental injustice of a process that has no meaningful independent oversight to speak of.
Fortunately, some prisoners subjected to prolonged periods of solitary confinement have courageously come forward to bring legal challenges. In 2011, the BC Civil Liberties Association (BCCLA) sued CSC on behalf of Bobby Lee Worm,[13] a young Aboriginal woman from Saskatchewan who was held in solitary confinement for over three and a half years.
The BCCLA challenged Ms. Worm's long-term solitary confinement as cruel and unusual treatment under the Canadian Charter of Rights and Freedoms. During her years of isolation, Ms. Worm would spend up to 23 hours a day alone in her cell, often her only human contact taking place through the food slot in the door of her cell. The BCCLA suit also challenged the use of the Management Protocol, a controversial program for female prisoners deemed "high-risk" that allowed for indefinite periods of isolation. The vast majority of women held under this protocol have been Aboriginal. Two days after the BCCLA filed its lawsuit, Ms. Worm was removed from the Management Protocol, and shortly thereafter CSC announced it would end use of the program across Canada. The case ultimately settled in May 2013. Ms. Worm's lawsuit is one step in the fight to end indefinite solitary confinement in Canada.
Out of sight is not out of mind. The BCCLA continues to call on CSC to end indefinite solitary confinement now.
[1] http://www.csc-scc.gc.ca/publications/005007-9011-eng.shtml#1.0
[2] http://provincialadvocate.on.ca/documents/en/Joint_Recommendations%20_Jury.pdf
[3] http://www.theglobeandmail.com/news/national/confined-the-death-of-eddie-snowshoe/article21815548/
[4] http://www.straight.com/news/593786/deaths-solitary-confinement-prompt-bc-coroners-inquest-and-calls-reform
[5] http://www.theglobeandmail.com/news/national/one-in-four-prisoners-faces-solitary-confinement-ombudsman-says/article21986991/
[6] http://www.theglobeandmail.com/globe-debate/editorials/corrections-canada-failed-edward-snowshoe-and-it-knows-it/article21977269/
[7] http://www.csc-scc.gc.ca/publications/005007-3020-eng.shtml
[8] http://www.theglobeandmail.com/news/national/one-in-four-prisoners-faces-solitary-confinement-ombudsman-says/article21986991/
[9] http://www.theglobeandmail.com/globe-debate/we-need-the-rule-of-law-in-prison/article22004287/
[10] http://solitaryconfinement.org/uploads/SpecRapTortureAug2011.pdf
[11] http://www.caefs.ca/wp-content/uploads/2013/05/Arbour_Report.pdf
[12] http://www.oci-bec.gc.ca/cnt/rpt/annrpt/annrpt20112012-eng.aspx