You might have heard of reality show Border Security: Canada's Front Line after it received criticism earlier this year for documenting the Canada Border Services Agency (CBSA) on a raid of a Vancouver construction site searching for undocumented workers. In one case, a consent form for the show was obtained only after a migrant worker was detained and was signed under great duress and confusion. A day after the raid, the BCCLA wrote a letter to the president of CBSA outlining the serious privacy and security concerns surrounding the filming of deportation as entertainment. The BCCLA also lodged a formal complaint with the Privacy Commissioner on behalf of Oscar Mata Duran, a migrant worker filmed during the raid, who was deported on March 19th, 2013. Force Four Productions has since agreed not to air any of the footage obtained during the raid, while the CBSA has limited the filming of inland enforcement activities to situations involving individuals wanted for "serious criminality" or those on CBSA's "most wanted" list.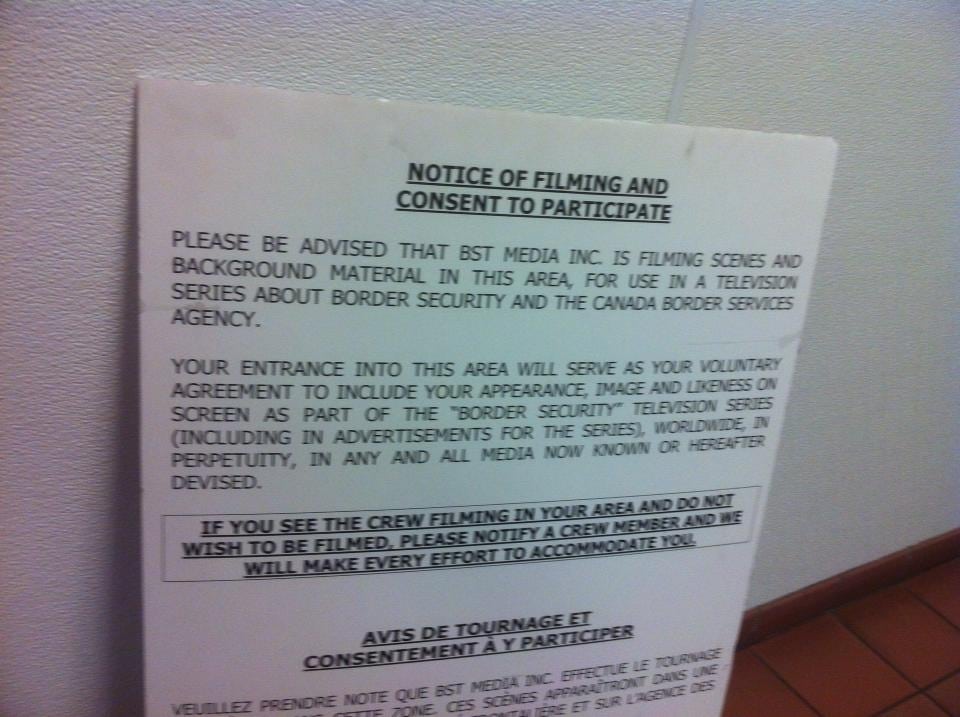 Although these policy changes are small steps in the right direction, they do not go far enough. It is still unacceptable for law enforcement to film people suspected of criminality for entertainment purposes. In addition, the CBSA's involvement in producing this show continues to infringe on the rights of citizens and non-citizens alike by filming travelers at the border crossing without obtaining their fully informed consent. Signs posted at the BC-US border claim that a traveler's presence at the border crossing, without any objection otherwise, constitutes consent to being featured on the show. This opt-out policy is a clear affront to individuals' right to privacy and the BC Civil Liberties Association is concerned with the government's continuous direct support for and involvement with a television production that infringes on individuals' rights.
The signs found at the border-crossing originally informed travelers that:
Your entrance into this area will serve as your voluntary agreement to include your appearance, image and likeness on screen as part of the 'Border Security' television series (including in advertisements for the series) worldwide, in perpetuity, in any and all media now known or hereafter devised.
The signs have since been changed in response to privacy concerns. They now say that individuals will not be identifiable in the series without first giving permission:
"Please be advised that BST Media 2 Inc. is filming scenes and background material in this area, for use in a television documentary series about border security and the Canada Border Services Agency. You will not be identifiable in the series without your permission. If you are in the background while others are being filmed, or if you do not agree to be identifiable in the series, your image will be altered so you are not recognizable. If you see the crew filming in your area and do not wish to be filmed, please notify a crew member and we will accommodate you. If you don't see a camera crew, no filming is taking place."
From a reading of this sign, travelers may still be filmed without their advance consent. Those who don't want to have their personal information – their own image – collected for this purpose, or who don't want to be in the TV show are still required to actively opt-out of being filmed by notifying the film crew that they do not want their images to be used in the show. The filming of individuals for entertainment purposes, by government and its agents, without obtaining full and freely-given informed consent remains a grievous infringement on their right to privacy. Canadians have the right to lawfully enter and exit the country as they please, and should not be subjected to being filmed for the purposes of a reality TV show to do so. Simply being present in a location (a border crossing) that you have to be in by law (in order to enter Canada) does not constitute informed consent to be filmed for a TV show.
The Canadian government should not be actively supporting and participating in an activity that so grievously violates the rights of its citizens. While there is no direct financial cost to the CBSA that we are aware of, the government agency's contribution in terms of staff supervising film shoots, and providing editing and review of the show is "not insignificant".  As per the agreement between Force Four Productions and the CBSA, representatives of the CBSA Communications Directorate must be present during all filming. The CBSA also identifies scenarios, sites and storylines for the show, and retains the right to review and approve all rough footage. As well, the government's engagement with the show has been both approved and publicly defended by Public Safety Minister, Vic Toews. All together, we understand that this may have added up to $60,000 in public costs so far.
We believe the CBSA's active involvement in filming cross-border travelers violates Canada's Privacy Act, which states that a public body can only collect personal information that is directly related to their programs or activities. Filming for the purposes of a reality TV show serves absolutely no public purpose related to the CBSA's legislative mandate of "providing… border services that support national security and public safety… and facilitate the free flow of persons and goods". As well, CBSA's participation in the filming arguably violates the agency's own Charter, which includes a commitment to respecting individuals' privacy and confidentiality.
For these reasons, the BCCLA has launched an effort at bccla.org/notforTV to allow travelers to explicitly refuse consent for CBSA, and the private TV production companies it is working with, to film them and to collect and use their personal information and images in the Border Security reality show. We have also asked members of the public who think they may have been filmed for this TV series while at the border to contact us with their stories. The BCCLA intends to file a privacy complaint if an individual or individuals can be found who have had their privacy rights violated and wish to take further action.
The Canadian government should not be actively participating in a reality TV show that infringes on the rights of individuals crossing the border. We, therefore, ask that the CBSA immediately cease and desist its participation in Border Security and stop both promoting and allowing the filming of its operations for commercial and entertainment purposes.
Here are 4 ways you can take action to protect your privacy and stop the CBSA from filming people without their consent:
 

If you have crossed the border recently or if you plan to travel to the United States, you might be a part of the Border Security TV show without even knowing it. Would you like to protect your privacy rights by letting Canada Border Services Agency know that you refuse your permission to have your private travel featured on reality TV?It only takes a few moments. The BCCLA will communicate that you do not want your information used to the appropriate authorities.
Have you already travelled across the border, and think that you may have been filmed for the Border Security television series without your informed consent? Tell us a bit about your story and potentially file a privacy complaint against Canadian Border Services Agency!
 
There's strength in numbers, and our members make our work to protect basic rights and freedoms possible. Join the growing community of people who share your concern about privacy at the border. All membership fees and donations receive a charitable tax receipt for the full amount.
Tell Your Friends

 Do you know of someone else who might be interested in this? Share this page on facebook or twitter by using the buttons below, or you can email your friends and family here:
Please select a valid form