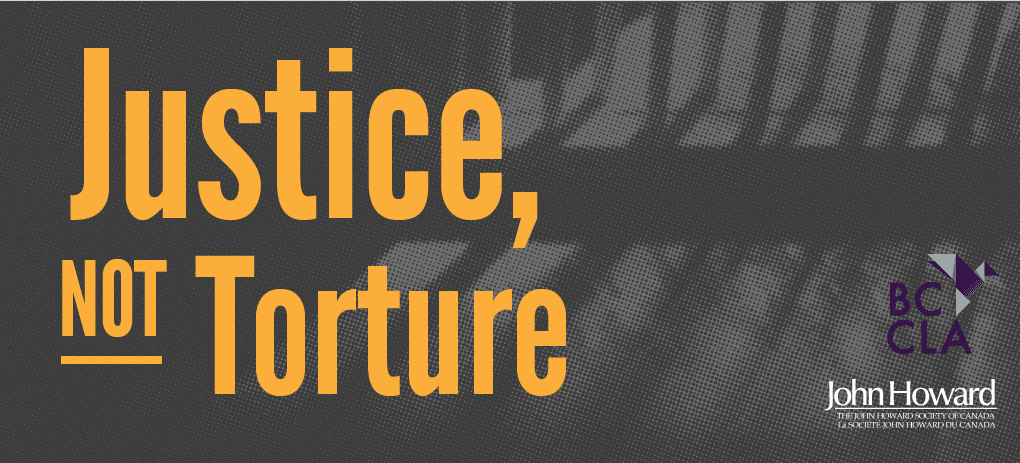 The BC Civil Liberties Association and the John Howard Society of Canada have launched a constitutional challenge to the use of solitary confinement in Canadian federal prisons. Solitary confinement, called "segregation" in the prison system, is the practice of confining a prisoner to a cell and depriving him or her of meaningful human contact for up to 23 hours a day, sometimes for months and years at a time.
On Tuesday, July 4, 2017, the BC Civil Liberties Association (BCCLA) will begin trial in the first ever comprehensive constitutional challenge to Canada's solitary confinement regime.
Most recently, this trial was postponed from January until July because the government of Canada created the expectation that they would bring forward legislation to change how solitary confinement is practiced in Canadian prisons. This delay bought Canada one last chance to reform this system. On Monday, May 8, 2017 they announced there would be no legislation brought forward.
So we are going to court.

In Canada, one out of every four prisoners in the federal prison system has spent some time in solitary confinement. At any given time, there are as many as 1800 people in solitary confinement in federal or provincial prisons.
International bodies and experts, including the UN Special Rapporteur on Torture and the UN Committee against Torture have concluded that prolonged or indefinite solitary confinement can amount to torture. The negative effects of long-term solitary confinement are well-documented. These effects include psychosis, hallucinations, insomnia and confusion. Solitary confinement can create mental illness where none previously existed, or exacerbate pre-existing illness. It is a risk factor for prison suicide. The suicide rate for prisoners is seven times the rate of the Canadian public, with nearly half of those suicides occurring in solitary confinement.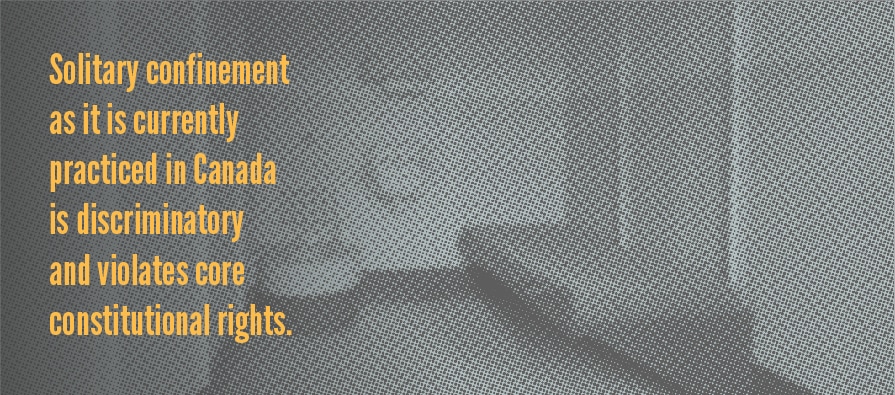 The damaging effects of solitary confinement increase the longer the prisoner is kept isolated. The effects of long-term isolation can also seriously hinder a prisoner's rehabilitation. Ultimately, solitary confinement leaves many individuals more damaged and less capable of living a law-abiding life.
At a time when the rest of the world is scaling back the use of solitary confinement, Canada remains steadfast in its reliance on a broken and dangerous system. From the Correctional Investigator of Canada to the United Nations, the message to our government has been the same: Canada must change the way it uses solitary confinement in its prisons.

Solitary confinement as it is currently practiced in Canada violates core constitutional rights.
It has led to preventable death and suffering. It is discriminatory in its use – mentally ill and Indigenous prisoners are placed in solitary confinement at a rate higher than other prisoners. And while lengthy isolation can seriously worsen mental illness, solitary confinement is increasingly being used to warehouse prisoners with mental health issues. Under the "administrative segregation" regime, prisoners are deprived of fundamental procedural protections – prisoners can spend months and years in solitary confinement without even a hearing before an independent body to determine whether their confinement is justified.


The Canadian government has ignored repeated calls to reform its use of solitary confinement for decades. It failed to act on the 1996 recommendations of former Supreme Court justice Louise Arbour to place strict time limits on how long a prisoner can be isolated, and calls from the Correctional Investigator – Canada's federal prison watchdog – to prohibit solitary confinement for the seriously mentally ill. In December 2014, it dismissed similar recommendations from the high-profile inquest into the death of prisoner Ashley Smith.
Our lawsuit claims that the provisions of the Corrections and Conditional Release Act ("CCRA") setting out the "administrative segregation" regime violates s. 7 (protection of life, liberty and security of the person), ss. 9 and 10 (protections against arbitrary detention), s. 12 (prohibition against cruel and unusual treatment) and s. 15  (protection of equality) of the Charter of Rights and Freedoms.

In 2011, the BCCLA sued the federal government on behalf of our client BobbyLee Worm, a young Indigenous woman from Saskatchewan, who was held in solitary confinement for over three and a half years under a program known as the 'Management Protocol.'
Two days after the BCCLA filed its lawsuit, Ms. Worm was removed from the Management Protocol. Shortly after, the government announced it would end the use of the program across Canada. Today she is working with the BCCLA to end the abuse of long term solitary confinement for all inmates. In this short film by our friend and acclaimed filmmaker Kevin Eastwood of Optic Nerve films, BobbyLee tells a small piece of her story.

Photo Credit: ewar woowar via Compfight cc