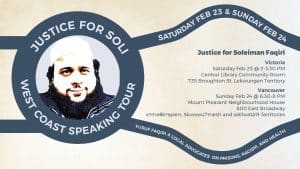 Soleiman Faqiri was a 30-year-old Canadian-Muslim man struggling with mental health who was killed while in custody at the Central East Correctional Centre in Lindsay, Ontario on December 15, 2016.
According to a surveillance video and internal report, Soleiman died after guards at the provincial facility pepper-sprayed and beat him. As a result of the vicious beating, Soleiman sustained fifty bruises and a blow to the head. His hands were bound behind his back when he was being pepper sprayed. Soleiman was then forced into handcuffs and leg shackles and returned to a cell in solitary confinement, which the United Nations notes can constitute torture when prolonged and used against those suffering with mental health.
Soleiman was one of five siblings and the family came to Canada from Afghanistan when he was a young boy. Soleiman's family describes him as "a kind, gentle soul who meant the world to his friends and family. Even while he suffered from schizophrenia, he always had a warm smile and a kind word to share. Soleiman needed a bed and a doctor, instead he got fists and cuffs."
An initial police investigation exonerated any guards from wrongdoing and no charges were laid, even though thirty guards were in his cell. The Ontario provincial government is refusing to provide the family with access to the full investigative file.
Now in 2019, after a year-long investigation by CBC's The Fifth Estate that has uncovered 1,500 pages of never-before-seen documents, his family are on a West Coast speaking tour to Vancouver and Victoria in order to build support for the demand that the government open a new investigation by an external police force and to seek justice for Soleiman.
---
Join us for a panel discussion with Soleiman Faqiri's brother Yusuf Faqiri and local advocates on the systemic injustices and relationship between prisons, racism, and health.
Yusuf Faqiri: Brother of Soleiman Faqiri
T'uy'tanat-Cease Wyss: Skwxwu7mesh media artist, ethnobotanist and land defender
Lama Mugabo: Hogan's Alley Society and community organizer
Josh Paterson: Executive director of the B.C. Civil Liberties Association
Mercedes Eng: Award-winning author of Prison Industrial Complex Explodes
Hosted by Justice for Soli, No One Is Illegal, BC Civil Liberties Association with the financial support of Women's Centre at UBC, Alliance Against Displacement, Streams of Justice
---
FREE. ASL interpretation and childcare provided onsite. Wheelchair accessible. Single-stall gender neutral washrooms.