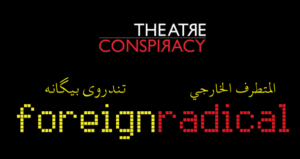 Theatre Conspiracy's Foreign Radical runs at Studio 1398 on Granville Island from February 6-11, 2017 with shows at 7 and 9pm (Feb. 6, only 7pm).
With just 30 tickets available for each show, our ability to comp people is very limited so we advise booking as early as possible. We are able to offer only single tickets for the shows during the run.  Tickets will be first-come, first-served.
Description: Foreign Radical invites 30 participants into an intriguing theatrical game that explores security, profiling, freedom of expression, and privacy in the age of cybersurveillance. Mobile throughout the performance, the participants collaborate, compete, investigate, debate, and spy on each other.
Foreign Radical explores issues that affect all of us, involving our most fundamental rights and freedoms. The show uses your opinions and experience to explore those issues. You converse with the artists rather than watch them. You are in the room rather than out in cyberspace.
Developed with the assistance of Playwrights Theatre Centre.
Please RSVP to [email protected] with the subject line: FOREIGN RADICAL RSVP. Let us know which show you are interested in attending.