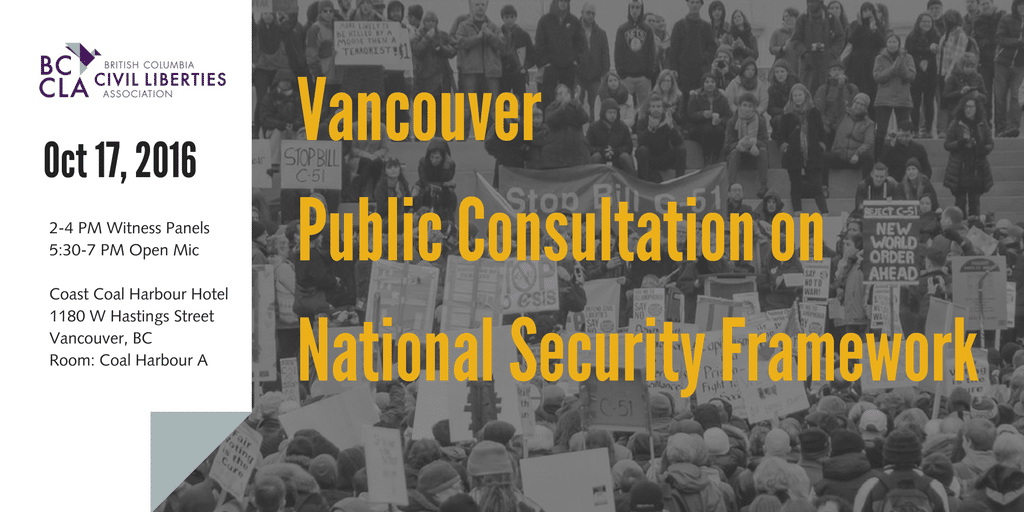 Please join and make your voice heard. This is an unprecedented opportunity for Canadians to weigh in on the recent radical changes to our national security landscape (eg. "C-51") and our  long-standing deficits in national security transparency and accountability.
Follow our Facebook page as we live-stream the "Witness Panels" portion of the event. BCCLA Policy Director Micheal Vonn has been invited to speak during that time.
Monday October 17, 2016
Vancouver, British Columbia
Coast Coal Harbour Hotel

1180 W Hastings Street

Vancouver, BC

Room: Coal Harbour A

2:00 p.m. – 4:00 p.m.
Witness Panels
5:30 p.m. – 7:30 p.m.
Open mic session
Public meetings are also being held in Calgary, Toronto, Montreal and Halifax. For more information on the public meetings, please visit the Parliament of Canada's website:
Members of the public are invited to attend these hearings. Please note that witnesses and members of the public attending the meeting must clear security and provide photo identification before they can be granted access to the meeting room. Lines are to be expected.

The Committee will hold two separate meetings in each city. The first one, held from 2:00 p.m. to 4:00 p.m. (local time) will be a conventional committee hearing with invited expert witnesses; the public is welcome to attend and observe these proceedings. The second meeting will be held from 5:30 p.m. to 7:30 p.m. (local time) and will consist of a two-hour session for members of the public to speak to the Committee and present their views on Canada's National Security Framework. Members of the public who wish to speak must register on-site. Registration will open 30 minutes before the scheduled time of these sessions. The list of speakers will be determined on a first-come, first-served basis. The Committee Chair will decide how much time each speaker will be given based on the number of speakers.

Canadian who are unable to attend the public sessions when the Committee travels, can still participate in the study. Those wishing to contribute to the Committee's discussions may do so by submitting a brief. To be accepted, the brief must not exceed 1000 words and must be submitted to the Committee no later than 11:59 p.m. (EDT) on Friday October 28. Briefs may be submitted to the Committee by email ([email protected]), or by using the appropriate button on the Committee's website.

Interested parties may follow the Committee's work on its website (www.parl.gc.ca/SECU-e).
– 30 –
For more information, please contact:
Jean-Marie David, Clerk of the Standing Committee on Public Safety and National Security
Tel: 613-944-5635
E-mail:

[email protected]