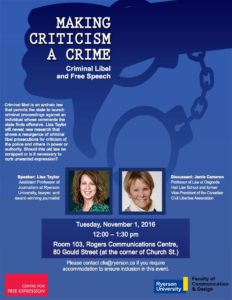 On November 1st, hear Lisa Taylor and Jamie Cameron speak about criminal libel and free speech at Ryerson University in Toronto!
Criminal libel is an archaic law that permits the state to launch criminal proceedings against an individual whose comments the state finds offensive. Lisa Taylor will reveal new research that shows a resurgence of criminal libel prosecutions for criticism of the police and others in power or authority. Should this old law be scrapped or is it necessary to curb unwanted expression?
Speaker: Lisa Taylor, Assistant Professor of Journalism at Ryerson University, Lawyer, and Award-Winning Journalist
Discussant: Jamie Cameron, Professor of Law at Osgoode Hall Law School and former Vice-President of the Canadian Civil Liberties Association
This event is free and can also be streamed live here.
For additional information, click here.