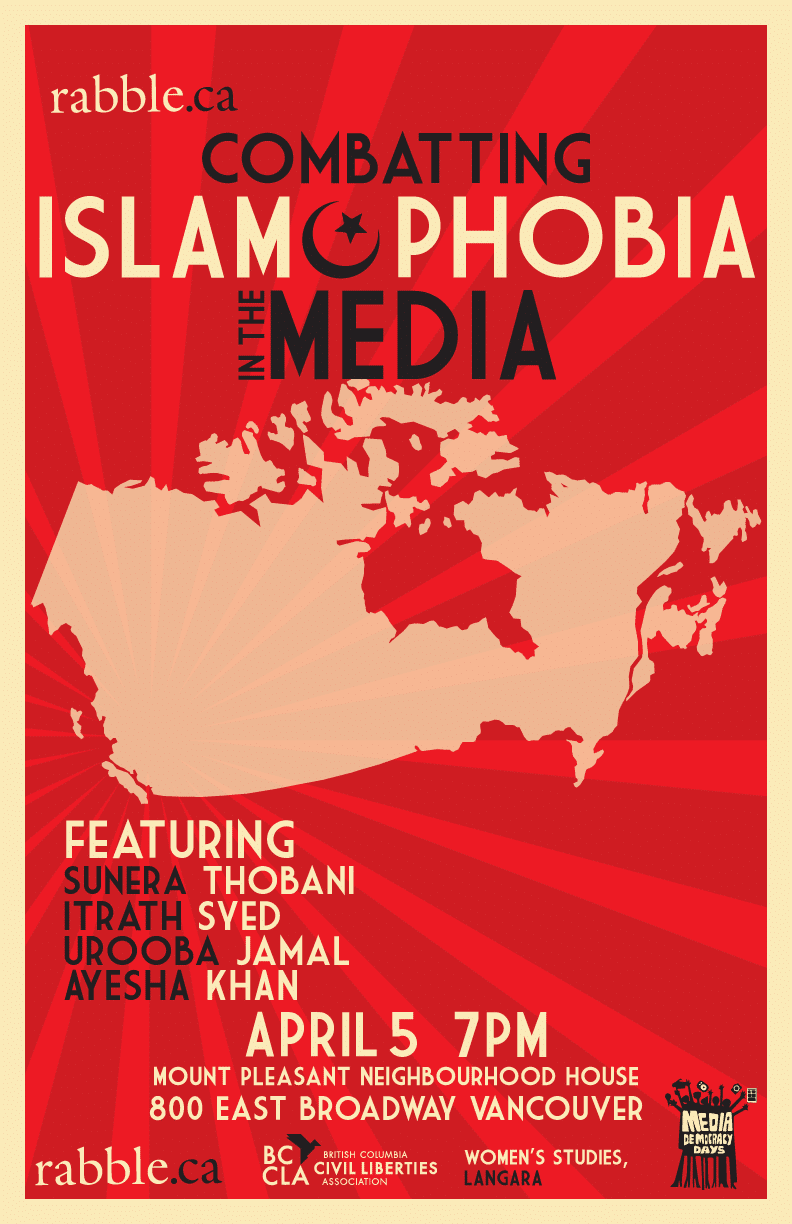 Come join Rabble.ca for a community forum on the mainstream media landscape and how it has the power to either reinforce or fight islamophobia in Canadian society.
Come out to hear firsthand, the lived experience and perspective of Muslim communities, and engage in a dialogue about the importance of placing storytelling and news coverage in the hands of frontline communities, especially folks facing racialization from dominant media bodies.
With an emphasis on journalist responsibility, this forum will feature speakers:
In partnership with Media Democracy Days, Women Studies Program: Langara College, and BC Civil Liberties Association.
BIOS
Sunera Thobani:
Sunera Thobani is Associate Professor at the Institute for Gender, Race, Sexuality and Social Justice, University of British Columbia, Canada. Her research focuses on critical race, postcolonial and feminist theory, globalization and violence, citizenship, migration, Muslim women, the War on Terror, and media.
Itrath Syed:
Itrath Syed is a PhD candidate at the School of Communication at SFU where her research involves an analysis of the discursive regimes that govern Muslim subjectivities in Canada post 9/11 . She also teaches Women's Studies at Langara College and Asian Studies at Kwantlen University. Itrath has a history of activism against war and occupation, and against the racial profiling of the Muslim, Arab and South Asian communities in Canada
Urooba Jamal:
Urooba Jamal is a Pakistani, Muslim immigrant to the gorgeous, unceded Musqueam lands known as Vancouver. She's got a penchant for the political, polemic and poetic. A self-proclaimed life-long dissident, she loves engaging in eccentric sartorial endeavours, making leftist jokes that only a fraction of people in the room can understand and…eating! In the past year, she has ran for political office as the youngest candidate in Vancouver's municipal elections, given a TEDx talk on student activism and helped co-found a leftist, alternative student press, The Talon, at the University of British Columbia. A recent graduate, she is currently interning at Leftword Books, a Marxist publishing press in India, doing freelance communications and journalism work and slowly subverting corporate culture at her office day job. Her post-grad plans also include: painting whimsically, wearing whimsical outfits, having whimsical love affairs and taking part in the communist revolution (basically, becoming Frida Kahlo). She tweets a lot (@uroobajamal) and blogs a little (underuroobasumbrella.tumblr.com)
MC:
Ayesha Khan
Ayesha Khan is a fourth year student at KPU and plans to graduate with a Bachelor of Arts in Sociology and a certificate in NGO & Non Profit Studies this Summer. During her undergraduate career, she has also studied at Harvard University, where she was in the Archaeology and History program which focused on Slave Trades, the African Diaspora and Slave Roots Tourism throughout Ghana, West Africa. Ayesha is currently the Secretary on the Board of Directors for Human Concern International- a Canadian charity based in Ottawa, Ontario, as well as the Director of Anti-Oppression at Kwantlen Public Interest Research Group- KPIRG. She is passionate about humanitarian aid and global development, and has participated in various forms of international volunteerism- including teaching English and P.E classes at a school for Syrian refugees in Reyhanli, Turkey.
EVENT INFORMATION
What: Free and public talk on Combatting Islamophobia in the Media
When: Tuesday, April 05, 2016, 7:00 PM
Where: Mount Pleasant Neighbourhood House (800 East Broadway, Vancouver)