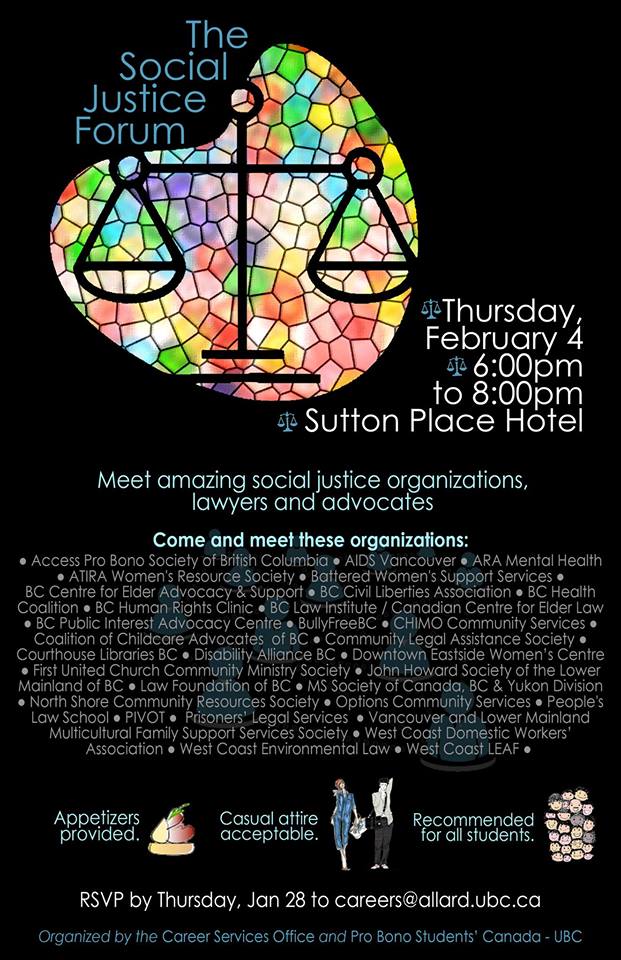 Sponsored by the Allard School of Law and Pro Bono Students Canada, the Forum is an annual event hosting social justice lawyers and representatives from 31 of British Columbia's premier public interest organizations. This is an opportunity for you to learn more about local social justice organizations and meet lawyers and advocates practising in this area.
Please RSVP by the end of the day of THURSDAY, JANUARY 28th to [email protected] with "Social Justice Forum" in the subject line.
*Casual Attire Acceptable*
Organizations that will be attending include:
Access Pro Bono Society of BC
AIDS Vancouver
ARA Mental Health
Atira Women's Resource Society
Battered Women's Support Services
BC Center for Elder Advocacy & Support
BC Civil Liberties Association
BC Human Rights Clinic
BC Law Institute
BC Public Interest Advocacy Centre
BullyFree BC
Canadian Centre for Elder Law
CHIMO Community Services
Coalition of Childcare Advocates of BC
Community Legal Assistance Society (CLAS)
Courthouse Libraries BC
Department of Justice (Federal)
Disability Alliance BC
Downtown Eastside Women's Centre
First United Church Advocacy Program
John Howard Society
Law Foundation of BC
MS Society of Canada
North Shore Community Resources
Options Community Services
People's Law School
Philippines Women's Centre
Pivot Legal Society
Prisoners' Legal Services
Vancouver and Lower Mainland Multicultural Family Support Services Society
West Coast Domestic Workers' Association
West Coast Environmental Law
West Coast LEAF
6:00 – 8:00 pm – Reception: A chance to mingle with public interest organizations and social justice practitioners who will be located at tables throughout the reception area. Excellent food will be served and a cash bar will also be available.
8:15 pm – Mixer: After the reception, head a few blocks away to the Morrissey to keep the conversation going at the SJAN Social Justice Mixer!
For more information, please visit the Facebook event page: https://www.facebook.com/events/1673906459534586/