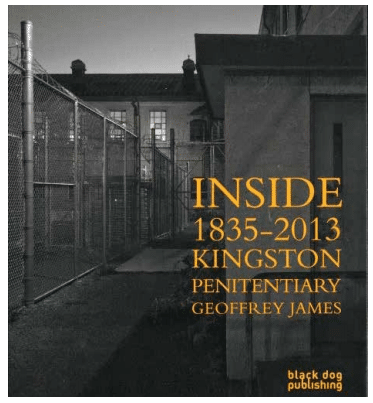 Presentation House Gallery and Emily Carr University are pleased to celebrate the launch of acclaimed photographer Geoffrey James' most recent publication, Inside Kingston Penitentiary (Black Dog Publishing). The event will feature a talk by James and a discussion with prisoners' rights expert Michael Jackson.
Inside Kingston Penitentiary proffers a glimpse into one of Canada's most forbidding—and forbidden—establishments. Opened in 1835, Kingston Penitentiary was a maximum-security prison that housed some of the nation's most infamous criminals until its closure in 2013. James was permitted access to the facility during its final six months of operation. This remarkable series of images captures the dynamics of tension and monotony, danger and community that punctuate the lives of inmates and staff alike.
Geoffrey James is one of Canada's most prolific photographers, with a career spanning over thirty years. James probes the social implications of human-made landscapes. His work has been exhibited internationally, and is included in major museum collections.
Michael Jackson is a professor in the University of British Columbia's Faculty of Law who specializes in prisoners' rights and Aboriginal rights. His books, Prisoners of Isolations: Solitary Confinement in Canada (1983) and Justice Behind Walls: Human Rights in Canadian Prisons (2002), complement James' project. In his forty years of teaching and advocating human rights, Jackson has represented prisoners and First Nations in major cases before the Supreme Court of Canada, and has proposed reforms to the criminal justice system before committees in the Senate and House of Commons.
The event is open to the public and free.