On February 6,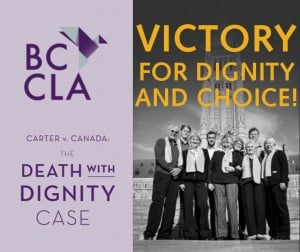 2015, Canada's highest court affirmed the right to choice and self-determination at the end of life in our lawsuit on physician-assisted dying, Carter v. Canada! We can't wait to celebrate our historic victory for compassion and choice!
We will be holding a public reception with the families connected to the case and our pro bono legal team. The celebration will include speakers and a special preview screening of a brand new documentary on physician-assisted dying by filmmaker Kevin Eastwood. Light refreshments and a cash bar will be available. We are looking forward to an unforgettable event to congratulate the families, the counsel, and our many supporters who made this watershed victory possible!  
If you are not available to attend the event but want to contribute to our ongoing efforts to ensure choice and compassionate care at the end of life, please consider making a donation in support of this work.
Click on the image below for a Google map of the reception venue, VanDusen Botanical Garden, and directions for drivers and those taking public transportation.
Please note that registration for this event is now closed – attendance is at capacity.