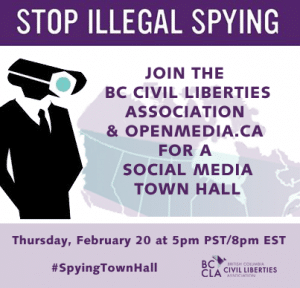 On Thursday, February 20th at 5pm PST/8pm EST, we will be hosting a social media town hall  featuring BCCLA Executive Director Josh Paterson, and Open Media.ca Executive Director Steve Anderson.
We'll be hosting an online conversation about our Stop Illegal Spying case, and spying and privacy more broadly. We're happy to take your questions.
Ways to Connect with Us:
Join us on February 20 at 5pm(PST) on twitter at #SpyingTownHall!

Join us on

Facebook 

 via Open Media's page
We'll be putting the following questions to our hosts, but we invite you to add yours as well!
1. What is the court case about?
2. Do we have any evidence that the government has been scooping up our private information?
3. Why should Canadians be concerned about warrantless online spying?
4. The case has been filed. What now?
5. What can Canadians do to ensure their right to privacy is respected and protected?
Never taken part in a twitter chat before? It's easy! You must have a twitter account to participate. Simply follow @bccla before Thursday, then follow the hashtag #SpyingTownHall.  You can do this using your basic www.twitter.com search function, or any of the twitter platforms including tweetdeck or hootsuite. Want more of an explanation? Click here.
You can ask Josh and Steve questions, or engage in conversation with the other participants. This is a great way to continue the community conversation about Canada's push back against mass surveillance.
We're looking forward to talking to you.