Please join us in thanking our Fall 2019 Communications and Development volunteers! The BCCLA team is very grateful for their support over the past few months. Thanks Annie and Lola!
Annie Bhuiyan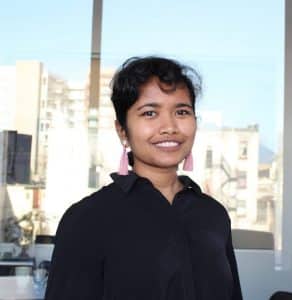 Annie is a graduate of Simon Fraser University's (SFU) Department of English. During her time at SFU, Annie worked as a student activist to organize campaigns like Tuition Freeze Now and Save Our Spaces. She was also involved with clubs like Left Alternative (LA) and campus unions like Teaching Support Staff Union (TSSU). In 2019, she worked as a communications team member for TSSU's "Research is Work" campaign, which unionized 1,500 research assistants at SFU. 
Her passion for civil liberties and social justice inspired Annie to volunteer as a communications and development volunteer at BCCLA. Outside of her daily responsibilities, she can be found chanting at rallies, on the web collecting vintage jewelry, and reading on the beach.
---
Lola Fakinlede
Lola Fakinlede has an MA in Journalism from the University of Western Ontario and BA in Economics and Mathematics from the University of British Columbia. She is passionate about human rights advocacy and sustainability. Her work with nonprofit organizations includes the United Nations, the Downtown Eastside Women's Centre, and Covenant House. She has partnered with Sustainable fashion brands such as Jose Hendo (UK), Green Embassy (Australia); reported on financial and social issues for Channels Television (Nigeria & UK); worked on economic and policy education initiatives with the Fraser Institute (Canada); and served as an adjunct faculty at the Pan Atlantic University (Nigeria). She freelances as a creative content creator, and is bilingual in English and French.
Lola is a minimalist committed to buying less and being cruelty free.