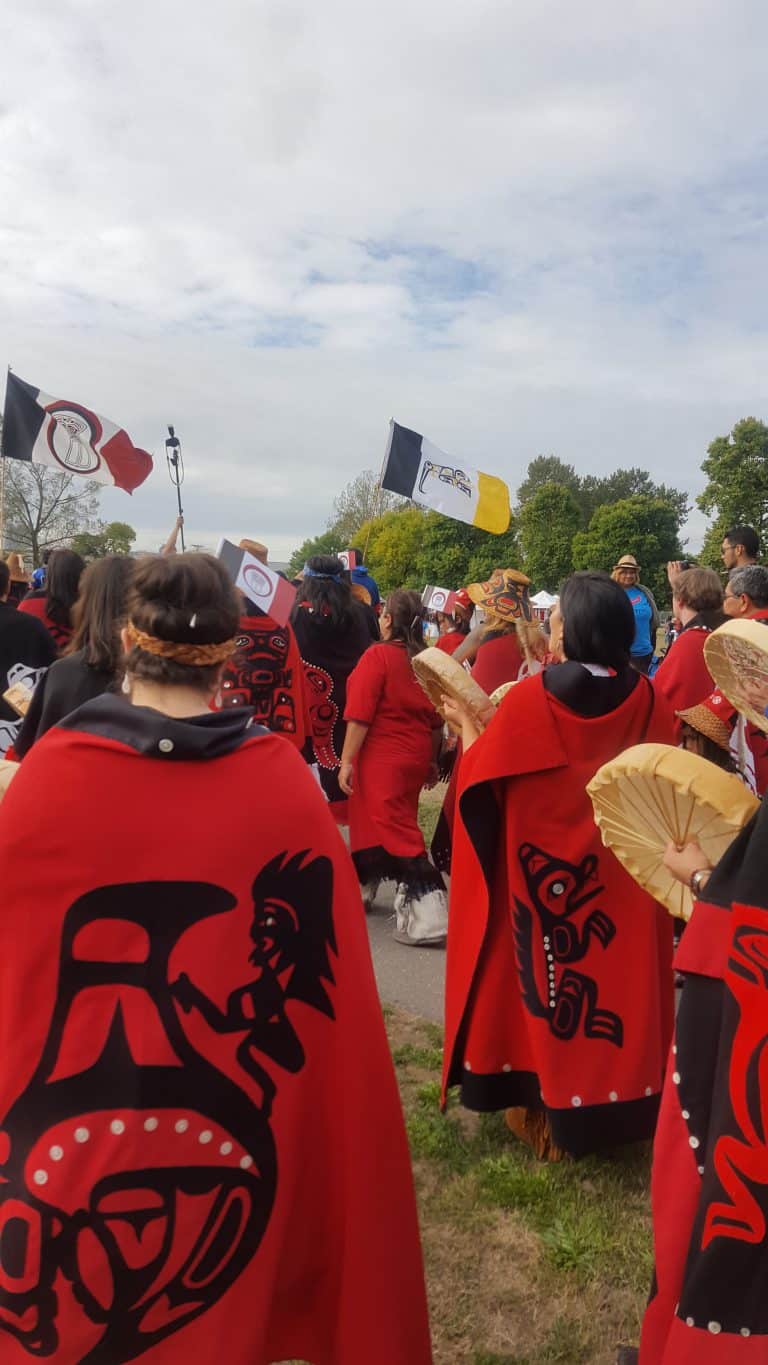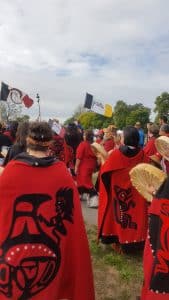 On Sunday, September 24 2017, the BCCLA and our supporters joined tens of thousands of people in the 2017 Walk for Reconciliation, hosted by Reconciliation Canada, on the traditional and unceded territories of the Musqueam, Squamish, and Tsleil-Waututh nations.
We marched as part of our ongoing personal and organizational commitment to the full realization of the rights of Indigenous peoples, including understanding and working to counteract the ways in which colonization and dispossession continue today. We also marched because of the renewed commitment we made before Canada's Truth and Reconciliation on Indian Residential Schools (TRC), acknowledging in our public apology that when it comes to the terrible injustice of residential schools,
[C]ivil society in Canada, including the BCCLA, for years and years, failed to see or to understand what was happening and what was being done in our names. As civil libertarians, we should have seen, and we should have spoken out, sooner than we did…On behalf of the British Columbia Civil Liberties Association, I offer to you today that we are sorry for the terrible injustice that was inflicted on Indigenous people through residential schools. We pledge to you our vigilance in using whatever resources we have to oppose violations of the rights and freedoms of Indigenous people now and in the future. And we pledge our fellowship with Indigenous and non-Indigenous peoples in Canada as we walk along the difficult road of healing and reconciliation together.
So, today we walk because we choose to treat reconciliation as a verb and not a noun. If we are to forge new nation-to-nation relationships, it will require work, imagination, and transformation of the economic, legal, and social conditions that continue to deprive Indigenous peoples of autonomy and authority over their lives and their lands. We do this work because we acknowledge that the foundational injustices of colonization, cultural genocide, broken treaties, and their ongoing impacts today, can and must be set right. As Victoria Freeman writes,
I believe it is possible to…be a society that is founded not on mere "tolerance", but on respect, a society that lives up to its word. But I know we can't move forward until we look the past in the eye, until we understand ourselves more deeply, acknowledging and exploring even the darker aspects of our history – not to damn our forebears, but with hope for a more humane world.[1]
Looking directly at the relationship between Indigenous peoples and settlers on this land can be painful. It can leave many of us unsure of where to start, or paralyzed by the weight of what must be dismantled and then set right. But, as Chief Robert Joseph, Ambassador for Reconciliation Canada, reminds us: "The more you embrace the notion that you can indeed inspire change, the more power and courage you give yourself to act in the pursuit of justice and equality".[2]
As civil libertarians, we stand for the fundamental right of each person to dignity and autonomy. We stand against the unjust coercion of people by the Crown. We stand in opposition to government action that unjustly takes away the right of people to determine and shape their own future. These values call us to stand in solidarity with Indigenous peoples in support of their quest for equality and justice. Our commitment to reconciliation calls us to take action in service of those goals.
Our work in pursuit of reconciliation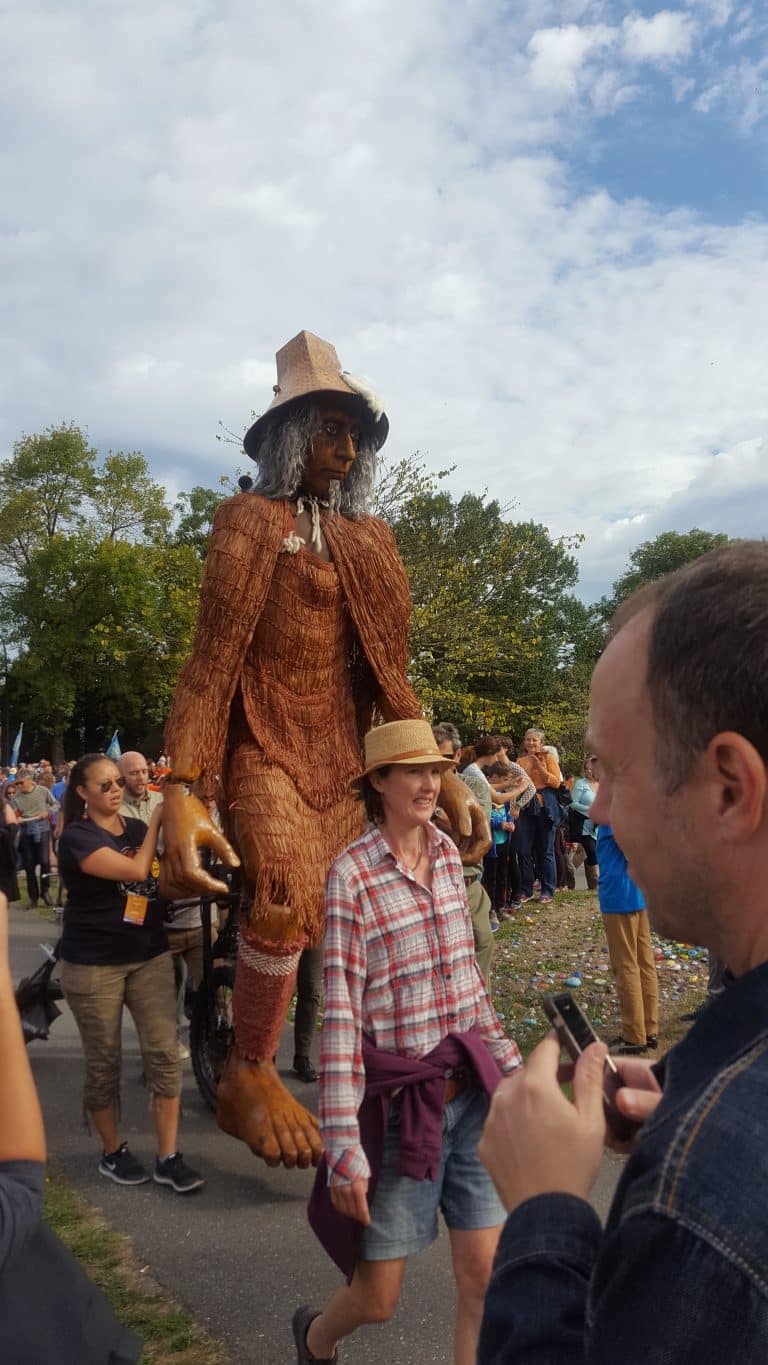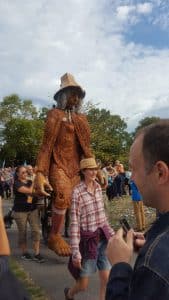 For the BCCLA, action in pursuit of reconciliation comes in many forms.
We are working in BC's rural and northern communities to oppose racial discrimination by policing agencies against First Nations and racialized minorities, including working with individuals who have been impacted by police violence and families who have lost loved ones in incidents of police involved deaths.
We are proud to work as a member of The Coalition on Missing and Murdered Indigenous Women and Girls in British Columbia, working alongside Indigenous lead organizations during BC's Oppal Inquiry and now supporting calls for greater outreach to ensure the voices of family and community are properly heard in Canada's national inquiry.
We continue to fight for an end to sex discrimination in the Indian Act. In 1974 we joined Lavelle and Bedard in opposing the discriminatory loss of status among First Nations women who married non-status men. Today, we continue this fight alongside their grandchildren's generation while Canada's government insists on passing a law that fails to fully address sex discrimination in the Indian Act.
From over policing in communities, to sentencing, to the over-representation of Indigenous people in solitary confinement, significant pieces of our work are focused on the experience of Indigenous peoples in relation to the correctional system. Last year, Maclean's reported that criminologists have begun quietly referring to Canada's prisons and jails as the country's "new residential schools" because of the staggering incarceration rates of Indigenous people. In Canada, the Indigenous incarceration rate is ten times higher than the non-Indigenous rate. Not only are Indigenous individuals disproportionately incarcerated, they are also more likely to be placed in solitary confinement.
Indigenous people account for 31% of cases of solitary confinement; and, once in isolation, they'll spend 16% more time there.[3] Our court challenge to solitary confinement, whose nine-week trial ended at the beginning of September, dealt squarely with this heartbreaking reality. Grand Chief Stewart Phillip of the Union of BC Indian Chiefs wrote recently that: "By keeping Indigenous people in solitary confinement, Canada inflicts new forms of trauma on those already suffering from the traumatic legacy of its own residential schools…If Canada continues on this path, how is healing possible? How can reconciliation be realized?" We couldn't agree more. For decades Canada's government has failed to make necessary changes to the brutal and debilitating practice of indefinite solitary confinement. There can be no meaningful talk about reconciliation without significant reforms to the way Indigenous peoples are treated in the correctional system.
But where our governments fail, there is room for each of us to take action. By coming together under the umbrella of the BCCLA, the individuals who make up our members have made it possible to fight a system that may at first seem impossibly large and resistant to change. This court challenge to solitary confinement reminds us that while the road to reconciliation requires massive changes, we can accomplish so much when we act together in common cause.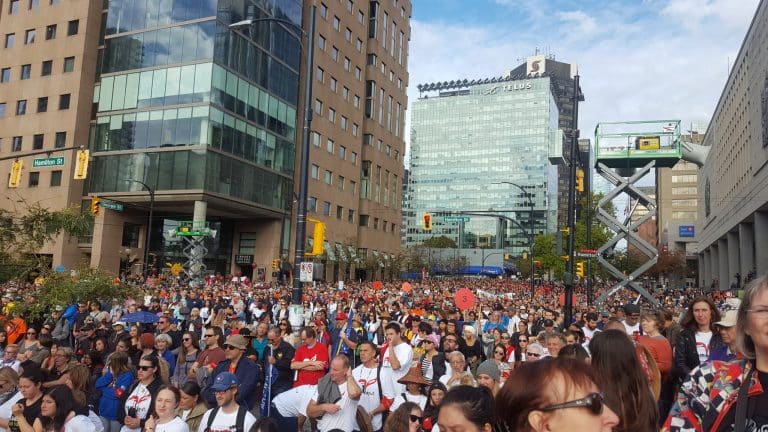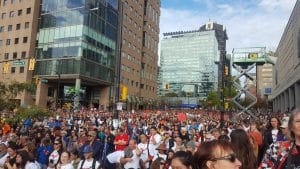 These are just a few of the ways in which we as an organization are breathing life into our commitment to reconciliation. We know there is always more we can do and ways in which we can be better in the work we choose. As we walk along the path of reconciliation, our commitment calls us not only to interrogate what we do but also how we do it.
How should we do the work?
How should settlers work in partnership, in solidarity, or as allies with Indigenous people? The answers to this question are probably as numerous as the people doing the work. For me, I have personally found a metaphor offered by Paulette Regan in Unsettling the Settler Within useful. Regan asks us to imagine the role of settler allies as offering to jump into the passenger seat on a long road trip. To be sure, a co-pilot has many important responsibilities and contributes meaningfully to the success of the journey, but they are going where the driver wishes to take them. We must be led by Indigenous people and organizations, and offer support where we are able to meaningfully contribute.
This is one of the reasons we are striving to implement TRC Call to Action #27 in our own workplace, working to "… ensure that lawyers receive appropriate cultural competency training, which includes the history and legacy of residential schools, the United Nations Declaration on the Rights of Indigenous Peoples, Treaties and Aboriginal Rights, Indigenous law, and Aboriginal-Crown relations." Through our commitment to understanding history and protocol and the practice of offering cultural supports where possible, we aspire to engage in the slow but critical work of building relationships of trust based on respect, authenticity and shared purpose.
The business of determining how each of us will breathe life into our personal commitment to reconciliation is difficult, but we can be sure that there is a crucial role for each of us in the walk for reconciliation. Here again, Chief Robert Joseph offers words of guidance: "Reconciliation includes anyone with an open mind and an open heart who is willing to look into the future with a new way… Our future, and the well-being of all our children, rests with the kind of relationships we build today."
So, let us walk together. May our numbers grow ever bigger, and our resolve ever stronger.
---
[1] Freeman, Victoria. Distant Relations: How My Ancestors Colonized North America.
[2]Joseph, Robert. "Thoughts from Chief Joseph on 2017". Reconciliation Canada. http://reconciliationcanada.ca/walk-for-reconciliation-2017/shareable-resources/
[3] Macdonald, Nancy. Canada's prisons are the 'new residential schools. Maclean's Magazine, February 18, 2016. http://www.macleans.ca/news/canada/canadas-prisons-are-the-new-residential-schools/