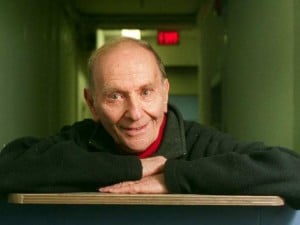 With a twinkle in his eye, a sharp wit, and a fierce delight for argumentation, Alan Borovoy, O.C., LL.D., was one of Canada's premier fighters for civil liberties and human rights. From almost the time of its founding in the 1960s through to the last decade, Alan was the general counsel of the Canadian Civil Liberties Association. He brought creativity, intelligence, and passion to his advocacy and to the approach of the CCLA.
John Russell, a board member and former executive director of the BCCLA, wrote that "Alan was an outstanding civil libertarian. He was an articulate and passionate defender of civil liberties and had a national presence at a time when civil liberties organizations were on the margins of public thought in Canada. He was also quite a lot of fun… He will be remembered as a major figure in the advancement of civil liberties in this country."
Alan found a way to bring humour to almost every issue he worked on. While the issues he worked on were serious, he always said that people fighting for rights mustn't take themselves too seriously. He used humour because it was fun, and he used it skilfully to gently disarm adversaries in argument.
In the fight against discrimination and racism, Alan was there. In the fight to protect free speech, Alan was there. In the fight to rein in the excesses of police, Alan was there. In the fight to protect the rights of workers, Alan was there. In so many of the key fights for rights and civil liberties in Canada, over so many years, Alan was always there.
The board and staff of the BC Civil Liberties Association are saddened by the loss of Alan Borovoy, a happy warrior in our common and continuing cause.