C-24 Threatens Equal Citizenship
In February the federal government put forward Bill C-24, introducing sweeping changes to Canada's citizenship laws.
This new law will turn Canadian citizenship law upside down, and shatter two of the key features of Canadian citizenship: permanence and equality. Learn more about the bill here.
Renowned Canadian author, and dual citizen, Lawrence Hill joined the BCCLA and the Canadian Association of Refugee Lawyers (CARL) in issuing a petition calling for Minister Chris Alexander to STOP Bill C-24. More than 43,000 people joined us.
Canadians Speak Out Across the Country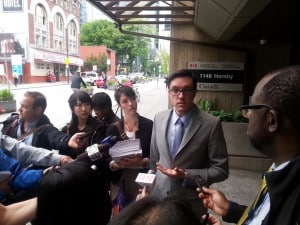 On June 3rd we delivered the 800+ page petition to the Office of Citizenship and Immigration in Vancouver. See photos on our Facebook page. Electronic copies were also delivered to the Citizenship and Immigration Minister in Ottawa, and to critics in the opposition parties.
Across the country, concern over Bill C-24 continued to grow. A coalition of more than 60 experts in citizenship law came together to write this letter calling for the end of Bill C-24.
Q with Jian Ghomeshi discussed the issue on June 9th: "the important thing here is this: We, as citizens, seem to have missed the opportunity to have a larger, national debate on who or how or how many people get into, and get to build, this great country along with us".
In this piece in the Globe and Mail, the authors discuss what the new changes will mean for potential applicants, and what Canada stands to lose with the changes. This piece is an excellent read for those looking to fully understand, and easily explain, concerns regarding this bill.
Standing Up for Citizenship in the Courts
Despite concerns raised across the country, Bill C24 was passed by the Parliament of Canada and has now become law. We encourage you to share information with those who may be impacted. Thanks to CARL, information on this bill is now available in multiple languages.
Although this bill has been passed, it does not mean that Canadians must always be saddled with a bad piece of law which violates their individual rights to equal citizenship and the procedural and legal safeguards that go along with it.
The Canadian Association of Refugee Lawyers (CARL), supported by the British Columbia Civil Liberties Association (BCCLA), announced recently that it will launch a legal challenge to the citizenship amendments.
Our organizations believe that where Charter rights are violated by bad pieces of law, the court system has a duty to uphold the rights of Canadians. We will not stand by while the foundations of our citizenship and our Canadian identity are threatened. We will keep you updated as our work on this issue proceeds.