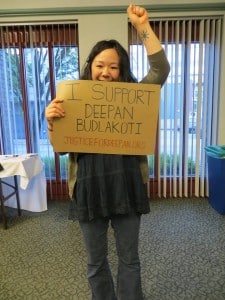 VANCOUVER – On Wednesday, May 14th, the BCCLA along with No One Is Illegal-Coast Salish Territories hosted Deepan Budlakoti, an ordinary young man from Ottawa who is facing some extraordinary circumstances: he has been stripped of Canadian citizenship, rendered stateless, and faces deportation to a foreign country.
How did this young man from Ottawa suddenly become stateless, with no rights and no citizenship?  Canadian law clearly states that anyone born on Canadian soil is automatically granted Canadian citizenship. Born in Ottawa, and issued both an Ontario birth certificate and a Canadian passport, Deepan's status as a Canadian citizen seems indisputable. In spite of these facts, and conspicuously following some low level run ins with the law, the Canadian government has arbitrarily decided to revoke his citizenship and deport him to his parents' native India, claiming that his documents were issued "in error".
Back Story:
For twenty years Deepan believed he was a Canadian citizen. So did his parents, friends and family. In 2010, following his conviction for breaking and entering, the Canadian government suddenly informs Deepan that he is not a citizen. His birth certificate and passport have "been issued in error".  They tell him that he will be deported to India, where he has no family, no citizenship, and no life.
The Canadian government's entire case rests on the premise of his parents' diplomatic status – they worked as household help in the residence of the Indian Ambassador. The point of contention is whether or not his parents were employed in this regard at the time of Deepan's birth as it would make him "inadmissible" for Canadian citizenship, a small and rarely used legal loophole in Canadian citizenship law. In truth, Deepan's parents were not employed in any respect by the Indian Ambassador at the time of Deepan's birth. This fact was confirmed in September 2013 in an official letter to the Canadian government from the former High Commissioner of India. The Canadian government continues to ignore these facts and Deepan's citizenship status remains in limbo. 
Neither India nor Canada accepts him as a citizen.  He cannot work, cannot vote, cannot travel freely. Deepan's case of double-punishment and the Canadian government's attack on the notion of citizenship should worry us all. By definition, citizenship is not a privilege given to those who demonstrate good behavior, rather, it is a fundamental right to all those who claim Canada as their home.
For more than four years, Deepan has had to mount a personal and legal campaign to see his citizenship restored. In this time, his mobility and his right to work have been suspended. He has spent thousands of dollars of his own funds, just to prevent his deportation to a country he has never been to from the only home he has ever known.
Threatening the Foundations of Citizenship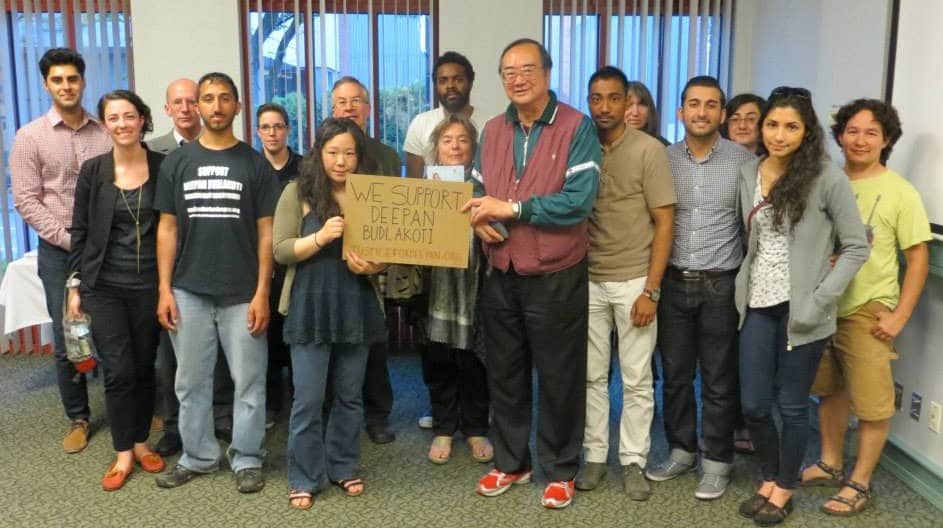 This case threatens the foundations of Canadian citizenship. Our citizenship should guarantee us fundamental rights and freedoms like mobility, voting, as well as membership into Canadian society. To revoke citizenship from someone – especially someone born under circumstances guaranteeing citizenship – is a scary and deeply troubling notion.
The proposed changes to Canadian citizenship law under Bill C-24 give us further reason to fear for more cases like these. The BCCLA believes that C-24 constitutes a slippery slope which culminates in a threat to the very permanence of Canadian citizenship. Under Bill C-24, or the Strengthening Canadian Citizenship Act, the Canadian government will have the power to define who is, and who is not, a Canadian citizen- stripping citizenship without the oversight of our established court system or fair trial guarantees.
We encourage all of our supporters to take part in our fight to ensure fair and equal citizenship for all by signing our petition on change.org, and supporting Deepan's pursuit to assert his rights and restore his Canadian citizenship at justicefordeepan.org.

Humza Sayed is a volunteer with the BC Civil Liberties Association. Thanks to Humza for graciously writing this post!