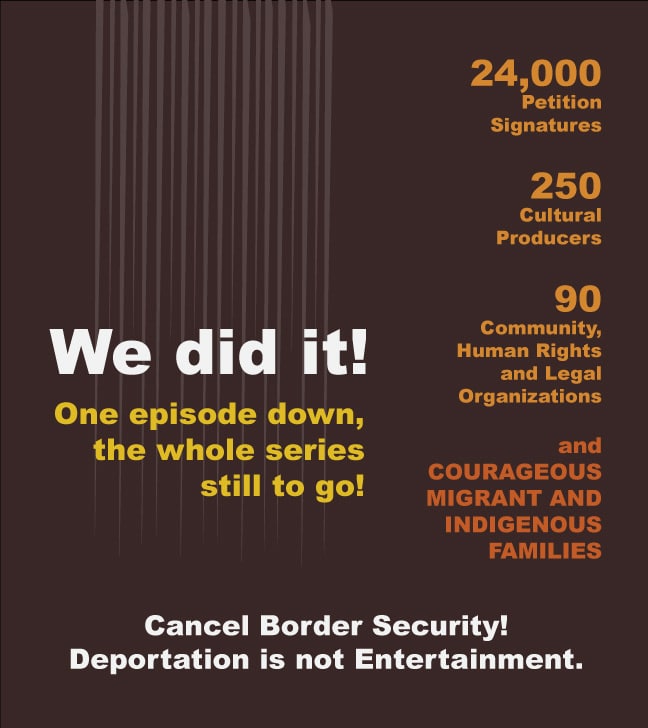 The BC Civil Liberties Association is glad to join  so many individuals and community groups in celebrating the news that footage obtained for the reality television show "Border Security" during a March 13, 2013 immigration enforcement raid  in Vancouver, British Columbia will not be aired.
The BCCLA has been actively working to remind the CBSA and Canada's government that it is reprehensible, not to mention a violation of an individual's rights, to film and broadcast immigration enforcement raids. Deportation is not entertainment.
On March 14, 2013 we first wrote to the CBSA President expressing concerns about reality TV camera crews accompanying its officers on enforcement actions. We followed up this action by lodging a formal complaint with the federal Privacy Commissioner on behalf of Oscar Mata Duran, a migrant worker who was deported on March 19. 2013.
We have since appeared in media across the country, and in person at local events, to make clear our position that the television show "Border Security" is inappropriate.
A recent Canadian Border Services Agency (CBSA) memo, obtained through an access-to-information request filed by Post Media, delineates newly placed limitations on the filming of inland enforcement activities, recommending that filming only be permitted in situations involving individuals wanted for "serious criminality" or those featured on CBSA's "most wanted" list.  The memo cites "negative public response" as part of the reason for imposing increased limitations on the show.
The public pressure exerted by so many organizations and individuals over the past weeks has forced the CBSA to respond to concerns about the activities permitted under their authority.  We here at the BCCLA are pleased to celebrate this outpouring of grassroots activism and support, but we do not believe that the response we have seen thus far by the CBSA addresses the core violations of privacy and security of the person that are inherent to this show's mandate.
Not airing the footage obtained on March 13, 2013 is simply not good enough. The CBSA must respect people's rights and stop its participation in this show.