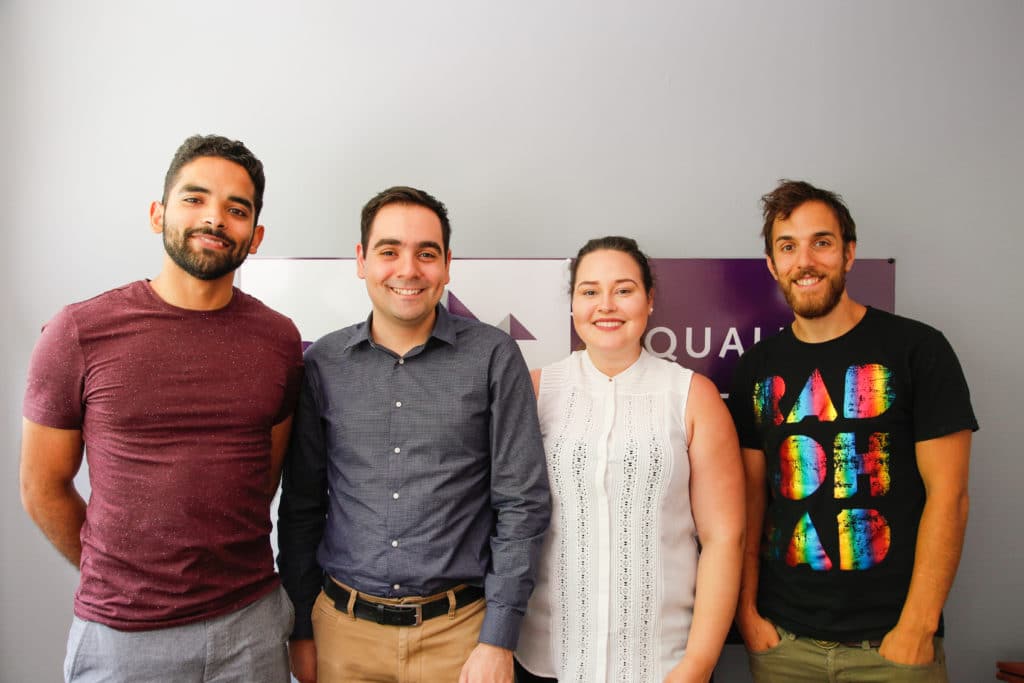 Please extend a warm welcome to our Summer Legal Interns: Salman, Arash, Victoria, and Jeremy! We are very excited to have them on board with us this summer. Learn more about each of their experiences by reading their biographies below:
Salman Rana
Salman Rana joined the BCCLA as a summer fellow in May 2017. He holds a degree in Economics (Honours) from Wilfrid Laurier University and is currently pursuing his law degree at the University of Ottawa. He has worked as a community organizer serving his Muslim community and is involved in many grassroots initiatives on campus. Most recently he helped organize the nation-wide US Trump Travel Ban Research-a-Thon at the University of Ottawa's Faculty of Law. Prior to attending law school, Salman worked for tech companies in the Waterloo Region. His experiences gave insight on not only the possibilities of today but also on how pressing issues such as privacy, access to information, and freedom of expression are quickly evolving with technological advancement.
Arash Ghiassi
Arash Ghiassi received his BA in Philosophy and Ethics, Society, and Law from University of Toronto in 2015, and will be entering the third year of his JD program at Yale Law School in fall 2017. Previously, he has worked as a Legal Intern with the LGBT & HIV Project of the American Civil Liberties Union as well as the Bronx Defenders. He has also worked with other community organizations and legal clinics, including the Canadian Centre for Victims of Torture and the Samuel Jacobs Criminal Justice Clinic.
Victoria Perrie
A proud member of the Manitoba Metis Nation and resident of Treaty 1 Territory, Victoria Perrie is honored to be a guest on the unceeded traditional lands of the Musqueam, Squamish, and Tsleil-Waututh First Nations and urban Indigenous communities. Victoria is an active member of the Indigenous and legal communities in Winnipeg and Canada. Over the last 10 years, she has been committed to the engagement of inner city and at risk Indigenous youth in theatrical arts education. As the founding coordinator of Native Youth Theatre, which has its roots in serving First Nations, Métis and Inuit communities, Victoria believes that the world and the youth living in it can create new realities for both themselves and our society through engagement with the arts – specifically in learning expression and interaction techniques. Victoria has participated in Canada's Truth and Reconciliation Recommendations through program development for Indian Residential School Survivors and those impacted by intergenerational trauma, as well as through engagement with the Manitoba Aboriginal Law Students Association and several other indigenous focused community groups. In May 2015 Victoria began her Legal education at the University of Saskatchewan by taking the Program of Legal Studies for Native People. Having focused on international and human rights throughout law school, she is now entering her final year at the University of Manitoba. At the University of Manitoba, Victoria is engaged in giving back to the community through dedication to Pro Bono Students Canada, Level (Canadian Lawyers Abroad), and Outlaws. Victoria has been an advocate for human rights recently through an internship at the Tibetan Centre for Human Rights and Democracy, and now at the BC Civil Liberties Association.
Jeremy Bally
Jeremy Bally is an incoming third year law student at Allard Hall at the University of British Columbia. He is looking forward to soon launching his legal career in either public interest or criminal law. Prior to law school, he worked as an international human rights campaigner.