We are pleased to present the 8th Annual Youth, Civil Liberties and Citizenship Forum taking place from 9am to 3pm on November 21, 2012 at SFU Harbour Centre.
*New this year: Students must register for their preferred afternoon sessions by following the link below. This process is first come, first served until the sessions are full.*
Schedule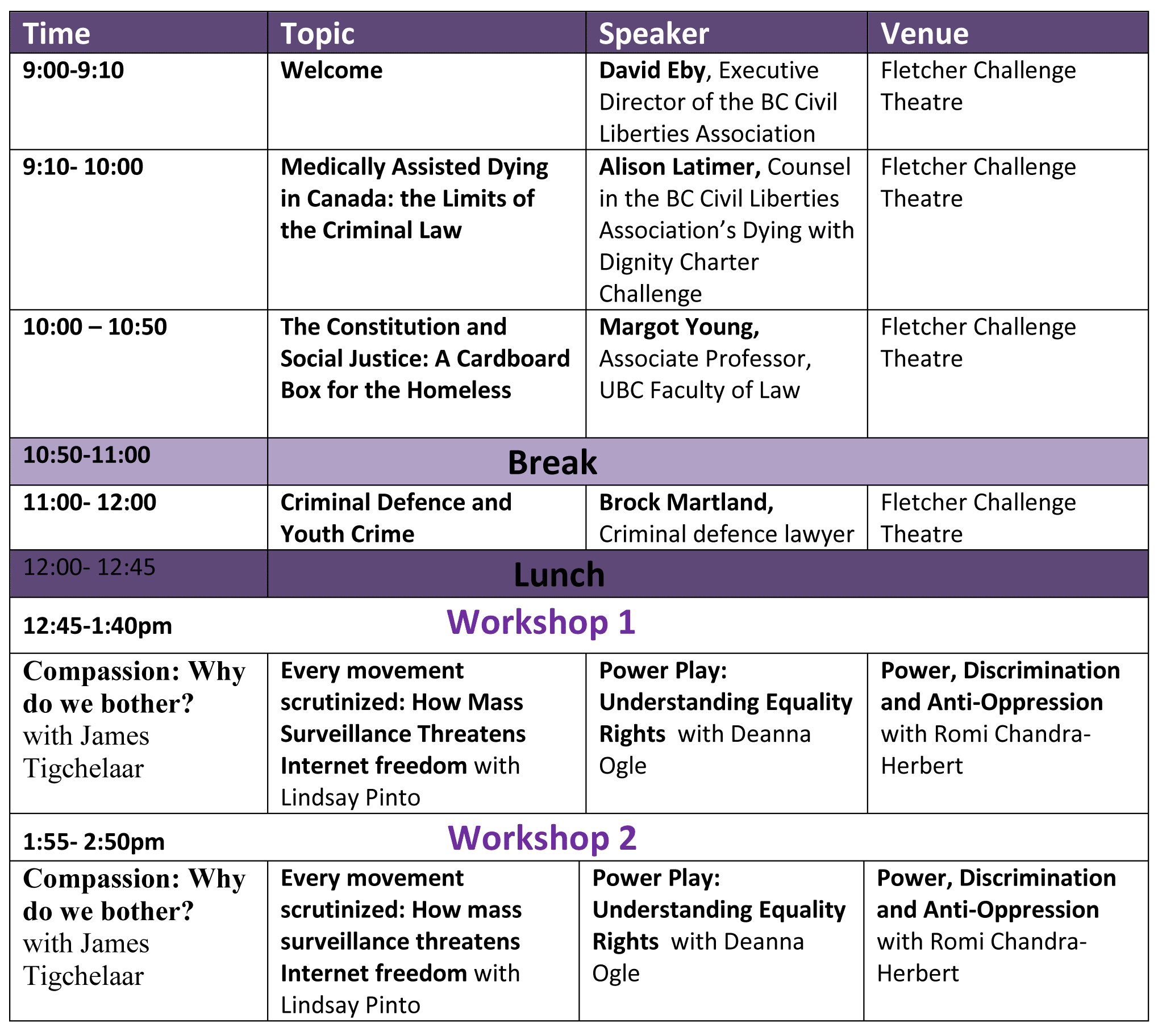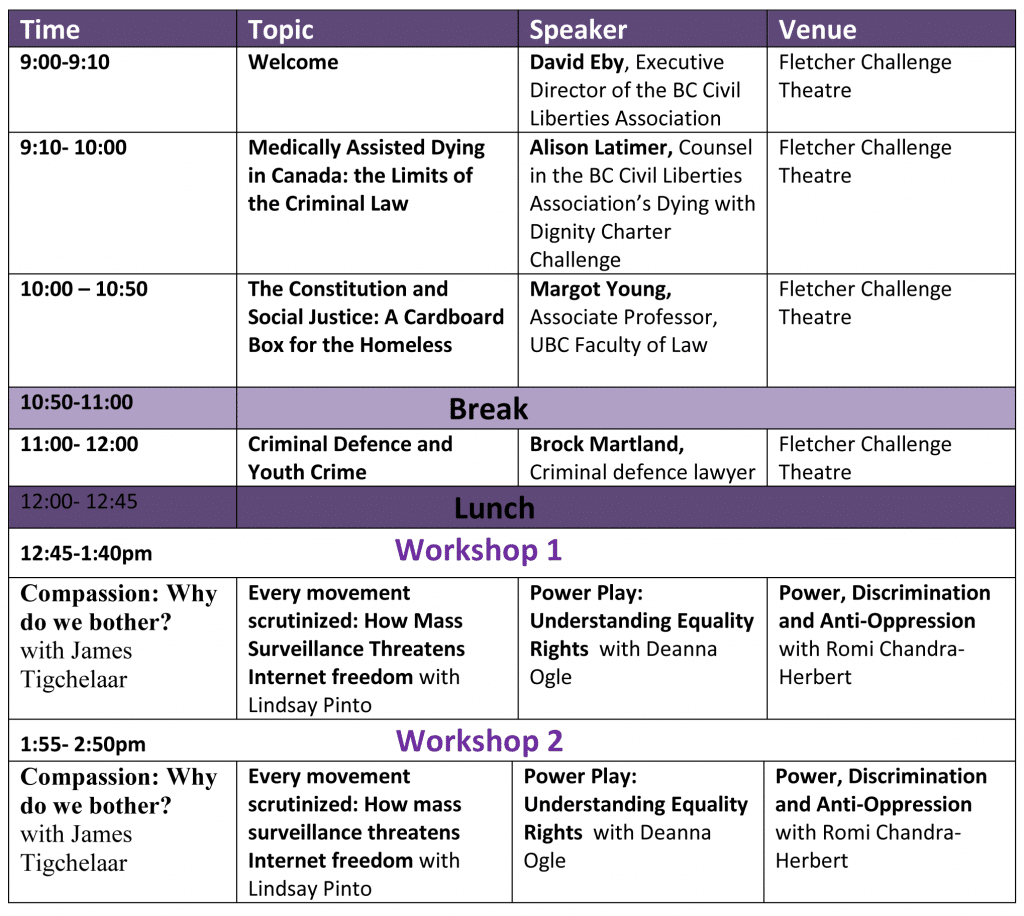 Keynote Addresses
Alison Latimer
Medically Assisted Dying in Canada: the Limits of the Criminal Law: A discussion of the recent case on assisted dying-Carter et al. v. Attorney General (Canada)  et al. and the legal, practical and ethical issues that surround medically assisted dying.
Bio for Alison:
Alison Latimer was called to the bar in British Columbia in 2009, the bar in the Yukon in 2011. She is an associate at Arvay Finlay and is currently seconded to Farris, Vaughan, Willls, Murphy LLP. She has worked on cases with impacts on a broad range of constitutional issues including freedom of religion, freedom of expression, privacy rights, equality rights, and the rule of law. Alison also has a wide range of experience in general civil litigation matters including family law, municipal law, environmental law and administrative law. Alison has appeared before administrative tribunals, at every level of court in British Columbia, and before the Supreme Court of Canada. She has co-authored two articles addressing issues of public law for publication in the Supreme Court Law Review.  Before completing her legal studies at the University of Victoria, Alison obtained a Bachelor of Fine Arts at the same institution majoring in theater. Alison is a member of the Canadian Bar Association and Canadian Actors Equity Association.
Margot Young
The Constitution and Social Justice: A Cardboard Box for the Homeless: A look at a recent legal case out of Victoria involving the rights of the homeless to put up shelter in a city park.  The challenge, based on the constitutional rights of life, liberty, and security of the person, illustrates the often unsatisfactory ways constitutional law deals with questions of economic deprivation and injustice. Discussion will focus on the details of the case, on understanding what constitutional rights have to do with anything, and on thinking critically about use of law for social change.
Bio for Margot:
Margot Young is Associate Professor of Law at the University of British Columbia.  She teaches Constitutional Law and law and social justice topics.  Professor Young's research focuses on equality rights, feminist theories of citizenship, constitutional law, and local housing issues.  She has worked with a number of community groups on social justice advocacy, both domestically and internationally.
Brock Martland
Criminal Defense and Youth Crime: Brock will speak about the criminal justice system and its basic principles (such as the presumption of innocence, the right to a fair trial), and about youth crime and the justice system for youths. He will also discuss what a criminal defence lawyer does, and what legal rights a person has when they deal with police.
Bio for Brock:
Brock Martland is a criminal defence lawyer with the law firm of Smart, Harris & Martland in Vancouver. He does trial and appeal work including the Surrey Six murder prosecution, the Air India case, and the Frank Paul Inquiry. He has handled many cases under the Youth Criminal Justice Act.
Workshop Details:
1. Compassion: Why do we Bother?
with  James Tigchelaar
People from socially disadvantaged places are more likely to contract HIV, live with addictions, and die prematurely than the socially advantaged. As a society, how do we respond to this? Is it human nature to be caring, or are we more likely to abandon those who can't 'make it' to suffer?  In this workshop we will examine the tension between selfishness and caring, and try to work out how to respond.
Bio for James:
James Tigchelaar is an educator with the BC Centre for Disease Control. He has worked with the Outreach Program (Street Nurse Program) since 1991, first as a front line nurse, then as the clinical/outreach supervisor, and now as the Outreach Education Leader.
Much of James' current work in education involves working with students in the health professions, as well as nurses and other health and social service providers to address the challenges related to providing effective and accessible care to people who are most vulnerable to STI, Hepatitis and HIV.
2. Every Movement Scrutinized: How Mass Surveillance Threatens Internet Freedom
with Lindsay Pinto
This presentation will discuss the ways in which surveillance threatens the open Internet, online communities, and the behaviour of citizens online and off. We'll discuss current surveillance-based threats to the Internet, including online spying bill C-30 (lawful access) and the Trans-Pacific Partnership agreement, and what citizens are doing to push back.
Bio for Lindsay:
Lindsey Pinto is the Communications Manager of OpenMedia, a grassroots organization that safeguards the possibilities of the open Internet. She aspires to put Canada on the map as a leader in Internet freedom and accessibility, and the effective use of independent media for political communication.
3.
Power Play: Understanding Equality Rights
with Deanna Ogle
Would you like to increase your knowledge around equality rights and the Charter of Rights and Freedoms? How can the law increase marginalization and what can we do about it? West Coast Legal Education and Action Fund (LEAF) presents an interactive workshop focusing on power, discrimination and the equality section (Section 15) of the Charter of Rights and Freedoms.  We will use activities and actual cases to talk about equality and discrimination in the law.
Bio for Deanna
Deanna Ogle has been a feminist since the age of thirteen when she looked the word up in a dictionary and realized it applied to her.  She has worked in various feminist and equality seeking organizations including women's centres and international development organizations. Deanna's interest in public legal education comes from her belief that everyone has experiences and knowledge they can share and there is a lot we can be learning from each other.
4. Power, Discrimination and Anti-Oppression
with Romi Chandra-Herbert
Session Description coming soon.
Bio for Romi:
Romi is in good company amongst the diverse South Asian diaspora in Canada. Seeking refuge from multiple coups in Fiji (which still continue to this day), he and his family fled in 1989 to find a new home. As a result, social justice practices and community mobilizing became central to his day to day life. In 1997, he helped establish the very first Gay/Straight Alliance in BC at his high school in Maple Ridge.
Over the past 16 years, Romi has had the honour of working and learning with diverse communities across the province and internationally. He was worked as a youth worker for queer and immigrant and refugee communities, both at a grassroots level and within established institutions. Romi finds his strength in helping others to help themselves.