The BC Civil Liberties Association provides assistance to members of the public who are dealing with civil liberties issues.  Civil liberties issues often focus on the relationship between the government and citizens, although they can also involve private organizations.  Some examples of civil liberties issues that we might be able to assist with include those relating to police accountability, privacy violations, access to information requests, or free speech and freedom of expression.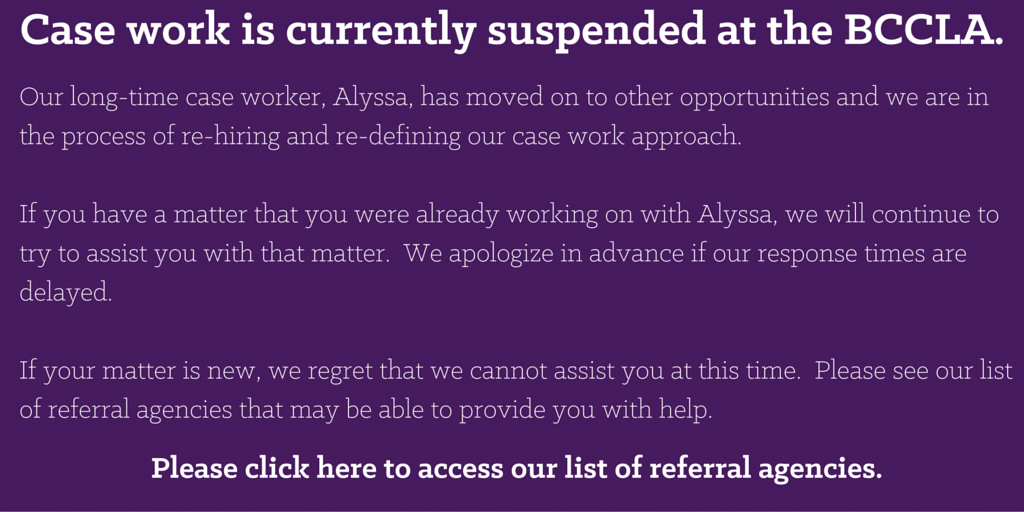 The BCCLA receives well over 2000 calls each year from members of the public who request assistance.  While we do our best to do what we can to assist all callers, we are able to take an active advocacy role in only a small percentage of these cases.
We are most likely to get directly involved in cases that may involve changes to a law or a policy.  Concentrating our efforts on addressing laws or policies allows us to maximize the effects of our limited resources.  We take on cases that are likely to have an impact on people beyond the individual complainant.
Where considerable resources will be required to address the issue, we assess the likelihood of success of our efforts.  If we determine that our efforts are likely to involve many resources and are unlikely to be successful, we may not be able to pursue the complaint.
There are many incidents of unfairness and injustice that the BCCLA simply does not have the capacity or the expertise to handle.  If we cannot offer you assistance it does not mean that your complaint is without merit.
Please note that the BCCLA does not provide legal advice or legal assistance.  We also do not offer referrals to specific lawyers.
What we can do:
Assist individuals filing formal complaints with public bodies, such as privacy complaints and police complaints.
Provide resources to those filing Freedom of Information requests.
Provide contact information for other organizations that provide more specialized services, direct advocacy services, or low-cost or free legal assistance.
Provide individuals with general legal information (not legal advice) through our plain-language legal handbooks, such as The Arrest Handbook: A Guide to Your Rights.
Help individuals with formal written correspondence in their efforts to resolve their civil liberties concerns.
Self-help:
There is a great deal of information available on our website that individuals might find useful in dealing with civil liberties issues.  Browse our publications or to check out our self-help guide. Please note that some of the links and contact information on our self-help guide are out of date. It is always best to confirm contact information on the home page of the government body or organization whom you are trying to contact. We apologize for this inconvenience and are hoping to have the resources needed to update our self-help guide in the near future.