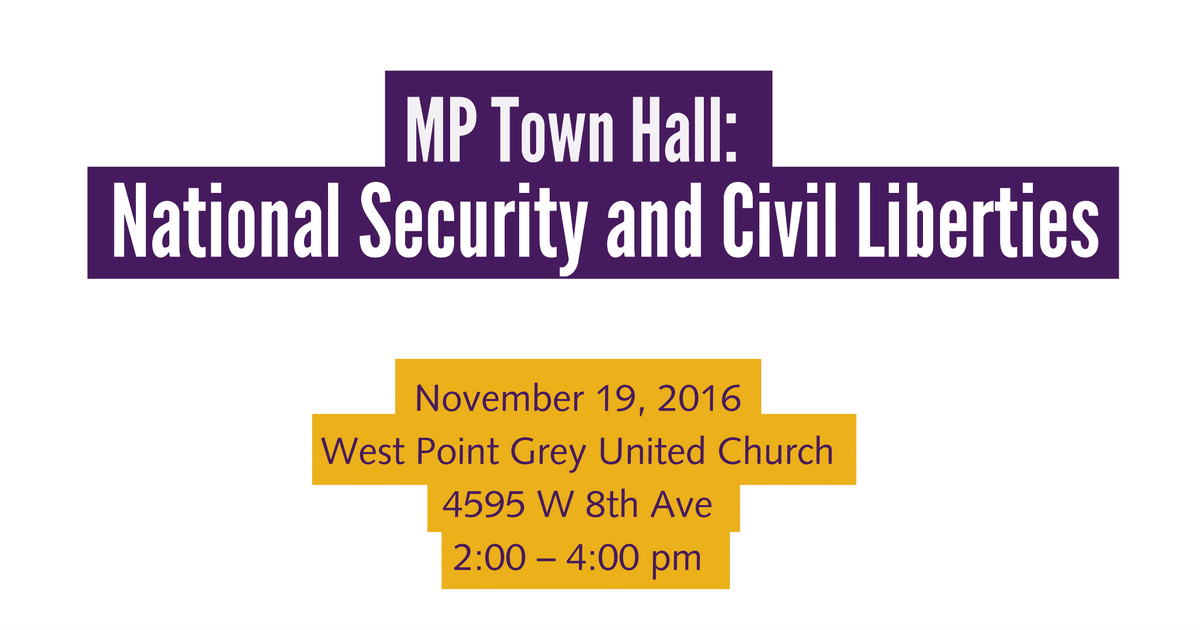 Our very own Micheal Vonn, BCCLA Policy Director, will be speaking at a town hall hosted by MP Joyce Murray on national security and civil liberties. More information:
"Due to the strong local reaction to the previous Government's Bill C-51, and her own work on these issues in her 2014 Bill C-622, MP Joyce Murray is hosting an MP Town Hall with some of Canada's top experts on National Security and Civil Liberties .
The Canadian Government has a dual responsibility when it comes to national security: to keep Canadians safe at home and abroad; and to preserve and protect the rights and freedoms which shape our open, inclusive, and democratic country.  This Town Hall is a chance to learn more about Canada's privacy and security provisions, and have your say on how you think the government should strike the right balance.

Expert panelists:
Andre Geromylatos, Professor of History  at SFU, and member of the Canadian Advisory Council on National Security
Kent Roach, Law Professor at University of Toronto and an expert in Anti-Terrorism Law
Micheal Vonn, Policy Director at the BC Civil Liberties Association
Reg Whitaker, Adjunct Professor in Political Science from the University of Victoria and specialist in Canadian Security
Details:
When: November 19, 2016
Location: West Point Grey United Church
4595 W 8th Ave
Registration: 1:45 pm
Time: 2:00 – 4:00 pm
Town Hall will start right at 2:00 pm so please be on time!
Light refreshments will be provided
If you are unable to attend, we encourage you to contribute to the government's security policy consultations. Visit Canada.ca/national-security-consultation<http://Canada.ca/national-security-consultation> for the opportunity to provide your input. The deadline is December 1, 2016."