Day 10, July 17, 2017
Today, counsel for the Attorney General called their first witness. Dr. Paul Gendreau was recognized by the court as an expert in psychology who is qualified to give opinions on the effects of solitary confinement and prison life in general on inmates.
Dr. Gendreau first confirmed that the last qualitative and quantitative studies he had personally conducted on the effects of solitary confinement were between 1969 and 1988. As part of his PhD, he spent a week in a solitary confinement cell in order to better understand the experience.
In his expert report, Dr. Gendreau expressed the opinion that there should be a general 60 day single placement limit on the use of solitary confinement, with an exception for those "exceedingly dangerous" inmates who may merit placements of up to one year. When questioned on this point by Mr. Arvay, Dr. Gendreau suggested that approximately 5-10% of inmates fit this category, and generally included those individuals whose behaviour posed "a serious threat to the good running of the institution". Dr. Gendreau agreed, however, that for inmates with serious mental health issues solitary confinement should never be used.
Dr. Gendreau maintained throughout his examination that the harms of solitary confinement have not been studied well enough to be conclusively agreed upon. He suggested that current ethical guidelines make it impossible to conduct the "perfect study" in this area, and that "natural" studies (i.e. studying actual prisoners without imposing certain scientific parameters) were the best we could currently do. Mr. Arvay asked what Dr. Gendreau suggested as policy in the meantime, while inmates continue to be subjected to solitary confinement. Gendreau replied that he is simply reluctant to go beyond the 60 day limit, given the current lack of empirical evidence.
Day 9, July 13, 2017
Canada presented the court with new documents this morning that were not previously disclosed to the BCCLA. Mr. Joseph Arvay, QC, representation for the BCCLA, objected to all of the undisclosed documents being added as exhibits, saying "this is truly trial by ambush, it shouldn't be allowed."
These documents included an alleged video of the altercation that Correctional Services Canada (CSC) claims was the initial reason for Mr. Andre Blair's 363 day segregation.
The BCCLA provided a lengthy affidavit with all available documentation on Mr. Blair because "we did not want to hide anything from the court". Canada's disclosure to the BCCLA included Offender Management System files on Mr. Blair. It appears that Canada did not simply find new information, but rather they held back the disclosure of important documents to the BCCLA.
Day 8, July 13, 2017
"The truth is, that inside of prison, many of the staff – they don't treat the prisoners like human beings. Many of them have the view that these are terrible people, they always will be terrible people, and they don't deserve to be treated like human beings. This is a systemic issue".
So testified Robert Clark, the witness called today by BCCLA counsel Alison Latimer. Mr. Clark was employed by the Correctional Service of Canada (CSC) for 30 years, working at all types of institutions as a segregation unit supervisor, an investigator, and a deputy warden (among other roles). He described the "blue wall" of CSC – an internal code which said you could never "rat" on another officer – as a core component of the organization's culture. If an assault were to occur between an officer and an inmate, with only other officers to witness it, Clark claimed it would not be uncommon for correctional staff to side with each other regardless of the truth of the matter. He also testified that internal promotions, wherein it is typical for a warden or deputy warden to have once been a correctional officer, allowed this culture to flourish at every administrative level. It would be learned at the beginning of one's career, and maintained throughout.
Mr. Clark also spoke of the difficulty around accessing a lawyer for those held in solitary confinement, the deterioration of their capacity over long term segregation (often eventually sleeping 16 hours per day and spurning opportunities to interact with others), and the disproportionate number of mentally ill inmates being subjected to these conditions. He said the culture of CSC contributed to these issues.
Closing out her questions for Mr. Clark, Ms. Latimer asked if he believed it were possible for the culture of CSC to change on its own, without external influence. He replied no, saying that the negative aspects he testified to today were too heavily entrenched in the organization.
Day 7, July 12, 2017
Today, Mary Elizabeth Campbell was called upon to testify. Campbell is a retired lawyer, specializing in Canadian correctional law. She has described herself as engaging in "fearless inmate advocacy" and is dedicated to human rights for everyone, including prisoners.
Campbell recalled working as the Director General and has a wealth of experience with corrections. She addressed how important it is to have a person not directly affiliated with corrections to review internal processes by saying: "you wouldn't want Pepsi to run the soft drink industry, because Pepsi looks out for Pepsi. You want someone who is also looking out for milk and iced tea."
Canada finished forwarding more than 20,000 documents to the BCCLA team yesterday. These documents were intended to be included in the Canada's documents for discovery, meaning that Canada intended to have these documents at their disposal throughout the trial.
Alison Latimer, counsel for the BCCLA, asked Mr. Justice Peter Leask for a ruling on the 20,000 plus documents.
Earlier in the trial, Joseph Arvay commented to the judge that making the BCCLA review this many documents, this late in the trial, is unfair and near impossible to do (because they are in trial every day).
Justice Leask said the documents are "out", meaning that the BCCLA does not have to review them, and Canada will not be able to rely on the information contained in those 20,000+ documents throughout the trial. The BCCLA expects that Canada will bring this issue up again tomorrow.
Day 6, July 11, 2017
The first inmate witnesses were called today. James Busch, who is currently incarcerated at Mission Institution, and Leslie Brownjohn, currently incarcerated at Pacific Institution, both spoke to the court about their experiences in solitary confinement at Canada's federal penitentiaries.
After BCCLA Counsel Alison Latimer Entered Mr. Busch's affidavit into evidence, counsel for the Attorney General began their cross examination. When asked if he was advised of his right to counsel upon being placed in solitary confinement, Mr. Busch claimed that he was but that lawyers were infrequently available to handle such cases. He also spoke to psychological services being underfunded, with a waitlist of up to 6 months if you request services, and up to one month if your need is deemed dire. Mr. Busch said that, at one point, he refused to express his suicidal feelings to an available psychologist because he knew it would result in further restrictions on his liberty.
Leslie Brownjohn's evidence was also entered as an affidavit. During his cross examination he echoed several of the issues testified to by Mr. Busch, including the difficulty in accessing a lawyer. He testified that while a legal call would usually be offered, it was often after business hours (so nobody would pick up). Mr. Brownjohn also denied on several occasions that the reasons he was placed in solitary confinement were accurately recorded by prison staff. He testified, for example, that a threatening message and image found on his cell door and used to justify his placement was in fact there before he resided in that cell. He also spoke of the mandatory suicide needs assessment checklist, which is required as part of the admission to solitary, not being administered consistently. Sometimes, he said, he was asked if he felt suicidal, and sometimes he was not.
Day 5, July 10, 2017
Today,  BCCLA introduced witness Dr. Stuart Grassian, a US psychiatrist, who has been practicing for about 40 years. His qualifications include extensive research, medical assessments, and interviews with inmates in solitary confinement. While primarily working in the US, Dr. Grassian indicated that his research encompasses information from both Canada and the UK. Dr. Grassian has worked with people with both medical and psychiatric illness and presented on how these issues are exacerbated for inmates in solitary confinement.
Dr. Grassian gave testimony as to the prevalence of psychiatric syndrome (a severe illness affecting the brain or other parts of the body), and psychotic delirium, (which can develop in a host of medical situations), for segregated inmates.
Appearance of delirium in segregated inmates showcases the impact of solitary confinement, and can also develop into more serious impairments and psychopathology.
Day 4: July 7, 2017
This morning, Canada requested clarification on a number of points from the BCCLA's filed Notice of Civil Claim. Mr. Justice Peter Leask dismissed all of Canada's requests, calling many "evidence, not pleadings". A motion was made by the BCCLA to change the terminology in paragraph 18 of the Notice of Civil Claim. Pleadings will be finalized on Monday July 10, when the parties will determine if the BCCLA is able to change the wording of "target" to "disproportionate" to better represent the BCCLA's position, and grant Canada clarification on the term.
Canada's voire dire on the expert testimony of Professor Michael Jackson wrapped up this morning, and continued with his cross examination by Canada. Professor Jackson elaborated on some of the alternatives to segregation such as smaller, more selective residence ranges. On the issue of inmates refusing to leave segregation, Professor Jackson commented that when inmates are faced with the option of moving to another prison, far away from family, or returning to an unsafe general population, there is hardly any option at all.
Commenting on Correctional Services Canada (CSC), Professor Jackson acknowledged that CSC has a very tough job, and they need to have more options available to them to keep people separate from the general population after an incident. Cells need to be developed that will accommodate a different type of segregation. When you only have two options (general population and segregation), there really is no option.
Day 3: July 6, 2017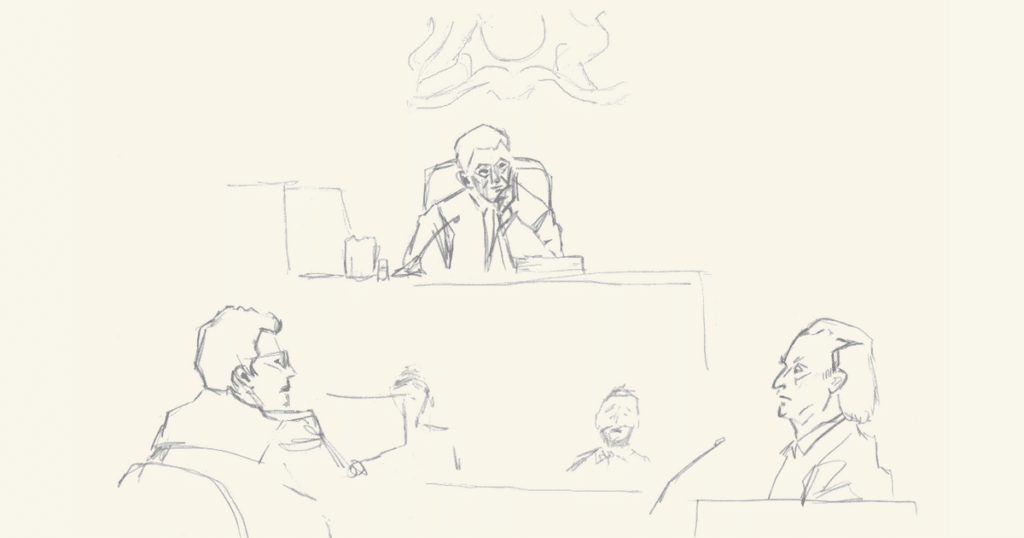 Today, Professor Michael Jackson was called as an expert witness. After BCCLA Counsel Joesph Arvay examined Professor Jackson on the content of his resume and qualified him as an expert to the court, counsel for the Attorney General began their voire dire on his expert evidence (arguments that his evidence should be excluded).
Expert Witness: Professor Michael Jackson
When asked about his empirical research methods, Professor Jackson stated that he has in the past been given unprecedented levels of access to Federal Prisons in Canada. While researching his 2001 book Justice Behind the Walls, he was able to walk freely around prisons, meeting with both inmates and wardens. Informed by this access and his other research, he spoke also about the "dissonance" between law/policy and practice in Canadian prisons. "When you look at the law" he said, "The Canadian system looks like the best in the world – but you have to look at what actually happens". He told the court that this dissonance is in fact part of what inspired him to write Justice Behind the Walls.
Mr. Justice Peter Leask ruled at the end of the day that Professor Jackson can be accepted as an expert in this case on all aspects of incarceration, including international human rights standards applicable to prisoners and prison administration and current Canadian prison law and policy, with specific expertise on the use of expertise in Canadian prisons. Justice Leask also ruled that Professor Jackson could present factual evidence (not as an expert) on things he has observed through the course of his research, including on his perception as a layperson of the effects of solitary confinement on the prisoners he has interviewed over the years.
Day 2: July 5, 2017
Today, the first witnesses were called upon to testify.
Glenn Patterson
The court heard first from Glenn Patterson, a former Indigenous cultural advisor at various Federal prisons and institutional elder at Matsqui Penitentiary. In these roles he offered spiritual and cultural support to Indigenous inmates, including those who were being held in solitary confinement. He said that, once inmates in the solitary wing became aware that he was visiting, they would yell down the corridor for him to come and visit them.  He spoke of having to meet with inmates through the 18 by 4 inch food slot in their cell door, and how, against the advice of the correctional officers on site, he would often reach his hand through that slot in order to create some human contact with the person on the other side.
In answer to a question from Mr. Justice Peter Leask about whether he ever felt afraid of the inmates, Mr. Patterson replied that he did not. He also told the story of Kevin Stonechild, an aboriginal inmate who in 2000 committed suicide while being held in solitary. Mr. Patterson told the court about a meeting he had with Mr. Stonechild the day before his death, during which he was "terribly distressed about his life". Mr. Patterson told both Correctional Officers and health staff about his concerns following the meeting, but Mr. Stonechild was still able to take his own life the following day.
Rob Roy, father of Christopher Roy
The court also heard from Rob Roy, the father of Christopher Roy, who killed himself while being held in solitary confinement in 2015. The bulk of Mr. Roy's evidence was given to the court in the form of an affidavit, after which he was briefly cross examined by Canada about his depth of knowledge concerning the reasons his son was being held in solitary confinement. At the end of the examination, Justice Leask thanked Mr. Roy for his testimony, saying "it must be troubling for you".
Day 1: July 4, 2017
Opening arguments were heard today in the landmark solitary confinement trial launched in January 2015 by the BC Civil Liberties Association (BCCLA) and John Howard Society of Canada (JHSC).
BCCLA's opening arguments: Ashley Smith, evidence of trauma, and Bill C-56
BCCLA's pro bono counsel Joesph Arvay, Q.C. opened the 9 week trial by telling the story of Ashley Smith, calling her death in solitary confinement a major impetus for the lawsuit. He described the conditions of deprivation under which Ms. Smith suffered, and her admission to a care worker about wanting to end her life just prior to doing so. Mr. Arvay told the court about how the recommendations arising from the report about Ashley Smith's death, recommendations concerning strict time limits and binding independent oversight, were rejected by the Correctional Service of Canada (CSC). He then presented a series of photographs showing the inside of segregation cells across Federal penitentiaries, stating at the last that they were "not a place I'd like to spend more than a few minutes, much less weeks, months, or years".
Mr. Arvay also introduced the evidence the court could expect to hear in the coming weeks. He spoke of experts that will testify to the severe psychological trauma inflicted by prolonged and indefinite periods of isolation. He spoke of former CSC employees who will testify to the "blue wall" of corrections – a workplace culture that values solidarity at all costs, is highly resistant to outside interference, that often sees inmates as "less than human", and which has shown a long standing pattern of disrespect for the rule of law. He said that the evidence will show what can happen when such an institution is granted broad, unfettered discretion, and the bitter resentment towards authority and law that is engendered in inmates who are subject to such discretion.
Mr. Arvay concluded by addressing the recently tabled Bill C‑56 and the proposed new Commissioner's Directives, both of which were released just two weeks before trial. He argued that, while not Charter compliant on their own, the presumptive limits set out in these documents amount to a concession by the Attorney General that the current laws are in fact not constitutional.
Canada's opening arguments: necessity and purpose of administrative segregation, and witnesses
Mitchell Taylor, Q.C. opened in defense for the Attorney General of Canada by arguing that administrative segregation, as Correctional Service Canada refers to it, is a necessary and appropriate tool that is only used in prescribed circumstances when there are no other alternatives. He went on to argue that the BCCLA and JHSC have not identified any inmates who are currently complaining about the use of this tool, telling the court to expect only evidence of past instances that are, in any event, isolated in nature and not indicative of systemic abuse. He provided as an example the 2014‑2015 Office of the Correctional Investigators Report as an outdated piece of evidence.
Mr. Taylor spoke to the purposes of segregation as outlined in the current legislation – namely that it is used to protect the safety and security of the institution and for the least possible amount of time. He argued that the evidence tendered by both parties should be tested in relation to these provisions, which the Attorney General maintains are constitutional.
Mr. Taylor then outlined three categories of witnesses: CSC employees who will speak to the challenges and risks of correctional work, experts who will respond to the expert evidence brought by the BCCLA and JHSC, and senior CSC officials who will provide evidence that administrative segregation is both necessary and effective when used appropriately.
Discussion of procedural matters
The first day in court for this historic trial ended with discussion of some procedural matters. Most notably, Mr. Arvay argued that the 20,000 documents that Canada has provided lists of to the plaintiffs (but not the documents themselves) in the final days before trial should be excluded as evidence, on the basis that their production at the final hour is unfair in the extreme and an abuse of court process. Mr. Justice Peter Leask declined to rule on this, reserving his judgment for tomorrow when further arguments could be heard.