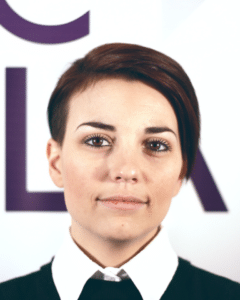 Please extend a huge welcome to Jay Aubrey, BCCLA Counsel (Litigation). Jay had just joined the team in November of 2016.
Jay is committed to practicing law for social justice, from early experiences advocating for me mbers of her rural Ontario, working class community, to more recent work for women and children surviving domestic violence, individuals charged with criminal offenses, and British Columbia tenants.
Prior to joining the BCCLA, Jay worked for the Toronto law firm of Ruby & Shiller. Jay is a graduate of Osgoode Hall Law School's Criminal Intensive Program, where she was awarded the Dean's Gold Key in 2013. Jay worked to establish the Wendy Babcock Social Justice Award, administered yearly to Osgoode graduates engaged in legal work that honours Ms. Babcock's fierce legacy of harm reduction for sex workers, and other socially marginalized people. Jay holds a Masters degree in Women's Studies and Feminist Research, which informs her ongoing learning to dismantle, and stop the reproduction of, social oppressions.
Alongside her legal work, Jay prioritizes caring for her own spiritual, emotional and physical health, and that of those close to her. Jay believes in the deep interconnectedness of all life, and the responsibility of all to care — for themselves, and each other. Jay enjoys supporting others to do good self-care. She also enjoys creating crafty gifts for friends, cloning and growing plants, and over contemplating existential dilemmas ocean side with her canine pal.