A celebration of 50 years of promoting freedom in Canada, with speakers John Cruickshank, publisher of the Toronto Star, Clayton Ruby C.M., acclaimed human rights lawyer, and the Right Honourable Kim Campbell P.C., C.C., Q.C., former Prime Minister of Canada.
The recipients of the BC Civil Liberties Association's Reg Robson Award, as well as the inaugural Liberty Awards for excellence in legal advocacy, youth activism as well as the lifetime achievement award will be honoured.
Details:
We are delighted to be hosting this event at the Coast Coal Habour Hotel, with a dinner menu featuring west coast cuisine and Canadian wines.
Doors: 6:00pm
Dinner: 6:30pm
Dress: Fabulous
Featured speakers:
John Cruickshank, Publisher of the Toronto Star
John Cruickshank graduated from Trinity College at the University of Toronto. Cruickshank comes from an extensive media background, taking on a number of different positions including; a publisher of CBC News, Chief Operating Officer and Publisher of Chicago Group and The Sun-Times News Group. Further, he served as a vice president of editorial and co-editor of Chicago Sun times, also the editor-in-chief of the Vancouver Sun. These titles and more Cruickshank obtained before becoming the President and Publisher of the Toronto Star and the President of Star Media Group of Torstar Corporation.
Clayton C Ruby, CM, Lawyer, Ruby Shiller Chan
Clayton C. Ruby, CM is one of Canada's leading lawyers specializing in criminal, constitutional, administrative and civil rights law. He received his LL.B. from the University of Toronto and his LL.M. from the University of California (Berkeley) and currently practices law with the firm of Ruby Shiller Chan in Toronto. In 2006 he was bestowed with an LL.D. (honoris causa) by the Law Society of Upper Canada. He is a Life Bencher of the Law Society of Upper Canada, having served as a Bencher since 1977. In 2006, Mr. Ruby was awarded membership in the Order of Canada. In 2012 the Lieutenant Governor of Ontario presented him with the Queen Elizabeth II Diamond Jubilee Medal.
The Rt. Hon. Kim Campbell, PC, CC, QC, first female Prime Minister of Canada (1993)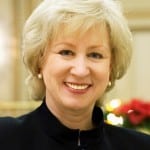 The Rt. Hon. Kim Campbell is the 19th and first female Prime Minister of Canada (1993).  She held several cabinet portfolios, including Min. of State for Indian Affairs, Min. of Justice and Attorney General, and Min. of National Defence and Veterans' Affairs. Ms. Campbell served as Canadian Consul General in LA, taught at the Kennedy School of Government at Harvard, and Chaired the Council of Women World Leaders. She is Past President of the International Women's Forum and founding member and Past Acting President, V.P. and Secretary General of the Club of Madrid. Today, she does consulting in the areas of governance and leadership, and chairs the international advisory board of the Foundation for Effective Governance in Kiev as well as the steering committee for the World Movement for Democracy. Ms. Campbell serves on several boards/advisory committees such as the Arab Democracy Foundation, Forum of Federations, and the International Centre for the Study of Radicalisation. She is @AKimCampbell on Twitter.